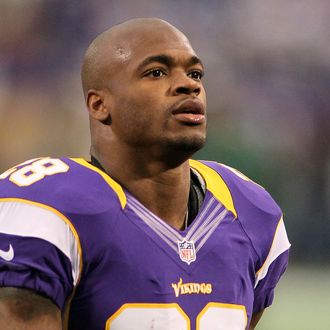 Photo: Andy King/2012 Getty Images
Upon further consideration, the Minnesota Vikings have decided that they don't want to play an alleged child abuser. Last weekend, star running back Adrian Peterson was deactivated for one game after he was charged with reckless or negligent injury to a child for beating his 4-year-old son with a tree branch. On Monday, the team announced that Peterson would be on the field again this Sunday, but after two days of public calls for his suspension — including one from Minnesota Governor Mark Dayton — the team has reversed its decision. In a statement issued early Wednesday morning, the Vikings said Peterson has been added to the Exempt/Commissioner's Permission List, "which will require that Adrian remain away from all team activities while allowing him to take care of his personal situation until the legal proceedings are resolved."
The press release from team owners Zygi and Mark Wilf continues:
While we were trying to make a balanced decision yesterday, after further reflection we have concluded that this resolution is best for the Vikings and for Adrian. We want to be clear: we have a strong stance regarding the protection and welfare of children, and we want to be sure we get this right. At the same time we want to express our support for Adrian and acknowledge his seven-plus years of outstanding commitment to this organization and this community. Adrian emphasized his desire to avoid further distraction to his teammates and coaches while focusing on his current situation; this resolution accomplishes these objectives as well.
CBS Minnesota reports that Peterson and the Vikings saw a major backlash from their sponsors this week:
The Radisson hotel chain announced it would be suspending its sponsorship with the Vikings. Meanwhile, Castrol Motor Oil, Special Olympics Minnesota and Mylan Inc. all severed ties with Peterson. Twin Cities Nike stores also pulled Peterson's jerseys from its shelves.
The Wilfs are expected to hold a press conference on Wednesday, which should be pretty awkward if they're anything like the other NFL officials forced to discuss sensitive social issues in the past few weeks.
Peterson, who apologized earlier this week, posted this following the announcement: