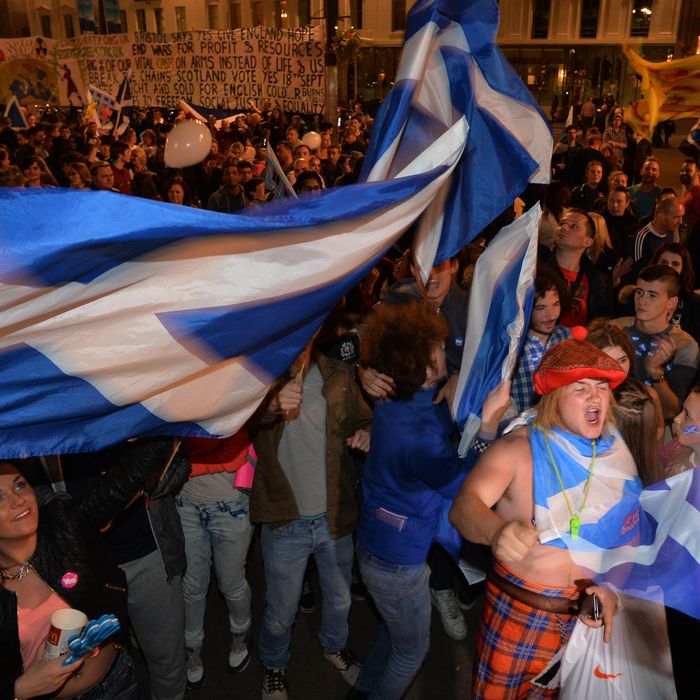 Freedom? No, thanks…
Photo: Mark Runnacles/2014 Getty Images
On a block in midtown across the street from a TGI Friday's, 59-year-old Dorothy Robertson waits at St. Andrew's Pub. She has the blue and white stripes of the Scottish flag draped over her shoulders, pinned together with a red "yes" button. She lives outside of Glasgow, and is on vacation in New York. She packed the pin and flag in her suitcase. "We're fed up of being dominated by Westminster," Robertson says. "I think we can stand on our own two feet."
A sweatshirt bedazzled with the Scottish flag hangs on a chair. Her husband James Robertson, 63, is in plaid shirt with a blue "yes" pin. He's pissed at Obama. "I think it was a disgrace for Obama to come out and say it would be wrong for Scotland to have independence," he says. "America fought for its independence. He backs every other country in the world to be independent. Why should Scotland be ruled by another nation?"
Nearby, a middle-aged man in an "Aye Love New York" shirt lets out a giant, sad gasp as Clackmannanshire goes "no," then Orkney.
"The Scottish people are traditionally miserable bastards, and I'm feeling quite miserable tonight," says one Scottish executive. "Glorious failure is written through our history so I'm expecting some more of that sadly." While the "yes"s try to remain optimistic, the "no"s are drinking downstairs. Bankers and pharmaceutical consultants are "double parking" — Scottish for double fisting — Guinness and whiskey and calling for political restraint.
"I will think we will do better if we stay as a United Kingdom," says Fil Spiers, who works in finance. "My reasoning is I feel like the economy in Scotland would struggle, we wouldn't have any ability to do anything about it." 
Stepping outside of the bar, grad students are smoking cigarettes and passionately debating income disparity. "I don't see how you can run an efficient democracy when you have a pretty obvious divide between the rich and poor," says Alastair Boyd as he tries to convince an American woman to back Scottish independence. "You have corporations that have more of a say than the poor. How is that a democracy?"
Walking west to Deacon Brodie's Pub — named for the famed Scottish cabinetmaker turned burglar — I pass two performers dressed as the Statue of Liberty speaking to each other in Spanish. Someone in a Chewbacca costume panhandles nearby. In 2014, a European country is attempting a non-violent, democratic revolution, but in Times Square, nothing has changed.
Deacon Brodie's feels like a cozy living room, warmly lit, with two stags on the wall and a bartender in a soccer jersey. "The politicians are listening because they got a bloody nose tonight. It might have not moved completely to the people, but it has moved in that direction," says Greig Mitchell, 39, while Oasis plays off a Pandora station set to the Kills. His friend Mark Edgar 41, agrees. "People are listening, the whole of Europe is listening."
A crowd that feels like a posh McLaughlin Group is debating unions while they wait for their beers to warm up. Tom Michaelis, 24, a Brit, wants to keep Scotland in the U.K. to help advance his own liberal motives. "I am a socialist," Michaelis says. "I would like Scotland to stay in the U.K., because I don't see the U.K. making serious socialist decisions. I want the Scottish vote for their left leaning views."
Downtown, at the Highlands in the West Village, it is standing room only and at least three people are draped in Scottish flags. There are brick walls, lots of candles, and soft tartan cushions. A woman takes photos and chants "freeeeedom" in her best Mel Gibson. The crowd watches the TV closely with the anticipation of a World Cup shootout, and erupts when North Lanarkshire comes in for "yes."
"It is really extraordinary that so many turned out to vote," says Alhena, an American who used to live in Scotland. "Change in and of itself is a really hard thing for most people to wrap their head around, and the fact that so many people turned out and voted is very symbolic."
A short time later, Sky News calls it for the "no"s. The announcement is so devoid of CNN fanfare, it's unclear anything has happened. Nearby, a man with half-loosened tie has passed out under a stag head.
"It's over," says Max, a Londoner, with the diction of the king, the breath of Laphroaig, and politics of the Tories. "Small celebration for a small victory. But we'll be back here in ten years' time."