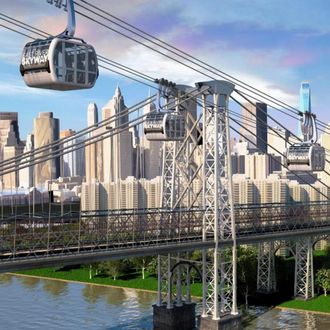 Photo: East River Skyway/CityRealty
How much do you hate the L train?
A new proposal for something called the East River Skyway imagines a world in which 5,000 people per hour could get from gentrified Brooklyn to downtown Manhattan in four minutes flat without going underground. Sure, why not!
The "urban gondola system" is the brainchild of CityRealty president Daniel Levy, who sees the futuristic cable-car pods traveling first from Williamsburg to the Lower East Side, and eventually connecting South Street Seaport, Dumbo, the Brooklyn Navy Yard, Greenpoint, Long Island City, and the United Nations.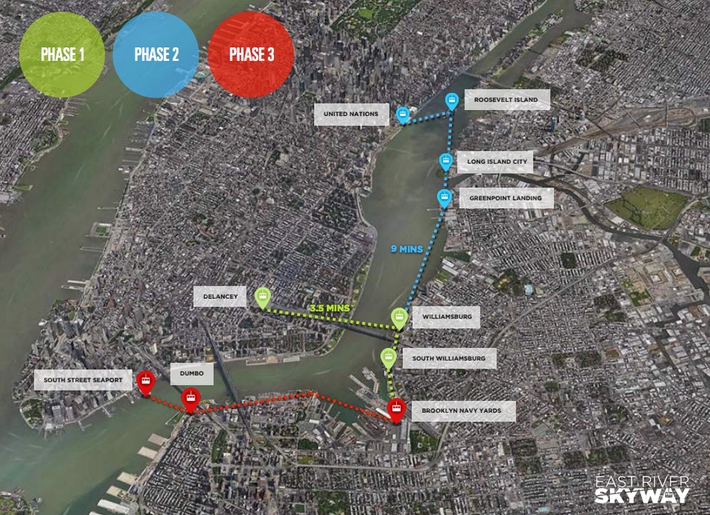 "Given the exciting growth in Brooklyn and Queens, it is essential to adapt New York City's transportation system to serve residents in these booming areas," said Levy in a statement ahead of his presentation to the Massey Knakal Brooklyn Real Estate Summit. "Cities around the globe are recognizing the viability and efficiency of urban gondolas to overcome serious transportation challenges. An aerial transportation system would be a relatively inexpensive and quickly-deployable solution here in New York."
The plan puts initial costs around $100 million. We're sure the city will get to it as soon as the Second Avenue subway is finished.