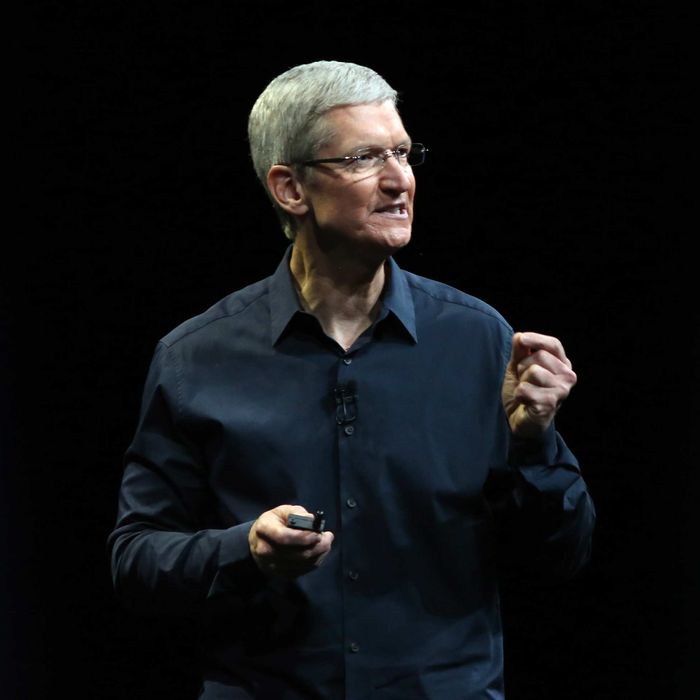 This guy, for starters.
Photo: Robert Galbraith/Reuters/Corbis
Apple is holding a big event in Cupertino today, where it's expected to roll out the iPhone 6, along with a slew of other gadgets and product updates.
You can watch the event live beginning at 10 a.m. Pacific Time. (We'll be liveblogging here on DI.) But until then, here's a comprehensive list of what most insiders expect Apple to unveil:
A bigger iPhone, and a much bigger iPhone
We know, thanks to months of breathless rumors followed by a slow trickle of component leaks, that Apple is planning to announce at least two phones this year: a 4.7-inch iPhone, and a bigger, 5.5-inch iPhone. (The current iPhone 5s is smaller than both of these, at 4 inches.)
According to Nowhereelse.fr, the new iPhones will come in three colors — gray, silver, and gold. They'll probably ship starting this month, but the larger version may be slightly delayed. The Wall Street Journal earlier reported that the phones' screens would be made of sapphire, a harder, more durable material than the traditional glass. But new reports say they might be sapphire-free. According to the Times, the phones will have a "unique, flexible screen," which could mean just about anything. And Gizmodo expects the phones to cost $200 and $300, with contract, depending on which size you get.
As for looks, the phones will probably not be too big a departure from the current iPhone. Leaked photos show an iPhone 6 that is rounder and thinner than existing iPhones, with a metallic back plate and a power button that has been moved from the top of the phone to the side. Other features expected to be in these new iPhones: a one-handed typing mode, for people whose hands are too small to make typing on a 5.5-inch phone comfortable. (The most important feature, though, is that they'll have a better battery. Hallelujah.)
A watch
The other hotly anticipated part of Tuesday's announcement is Apple's first true wearable device — a curved-glass wristband that works in tandem with your iPhone and acts as a fitness tracker, notifications hub, and more. (It's being called the iWatch, but that's just blogger shorthand — nobody knows what the real name will be.) The Times, citing people familiar with the device's specs, says it will have "a flexible display panel that is protected by a cover composed of sapphire," and will be able to be recharged wirelessly. (Hooray for no more digging cords out of the recesses of your bag!) The iWatch may also be used for mobile payments, perhaps in tandem with a near-field communication chip in the new iPhone.
The iWatch will probably look better than most other smartwatches on the market, and may even cut into sales of traditional watches. (Apple design honcho Jony Ive reportedly said that in regards to the iWatch, "Switzerland is in trouble.") Apple has brought in lots of high-end fashion designers to work on the device, but it's still a mystery whether consumers will be willing to invite one more gadget into their lives, fashionable or no.

New iPads
After the iPhones and iWatch, the Apple announcement hype kind of falls off a cliff. New iPads are also expected, but they'll probably be small-ish tweaks to existing iPads rather than entirely new devices. Digitimes says the new iPad will be thinner and more powerful than existing ones, and there's a bunch of speculation swirling about a new, ultrabig iPad, called the iPad Pro or some such, that would have a 13-inch screen, making it nearly as big as your laptop. But nobody really knows if these are happening, and they certainly won't be the focal point of the event.

A new version of iOS
As with prior iPhones, the iPhone 6 will come with a snazzy new operating system — iOS 8. We've heard a lot about iOS 8, which was announced at WWDC and has been in beta-testing for months, but Tuesday's announcement could include additional features such as credit-card scanning and Wi-Fi phone calling. In addition, we'll probably get more details on how HealthKit, Apple's new health-tracking software, will integrate with wearable devices like the iWatch.
A new way to pay for stuff with your phone
According to Bloomberg, Apple has partnered with Visa, Mastercard, and American Express for a "mobile wallet" app that will use near-field communication to allow you to pay for things at the store with your iPhone (and possibly your iWatch). Mobile payments are already in widespread use — Square, Paypal, and Amazon are among the many companies who have built pay-by-phone software — but Apple's mobile wallet will no doubt be better integrated into the iPhone than any previous efforts, and the sheer number of iPhone users will give Apple an advantage over third-party payment apps.
No apologies to Jennifer Lawrence

Easily the worst thing to happen to Apple this year has been the recent iCloud-related hack of celebrity nudes. Apple CEO Tim Cook won't likely discuss the hack on Tuesday, but security concerns will be on watchers' minds, especially given that, with HealthKit and the iWatch, the company is going to be asking users to get comfortable storing their health information on Apple's cloud. Given the recent spate of bad press, Cook will likely try to tap-dance around the issue, and may even shy away from mentioning the word iCloud at all.
A bunch of pointless hand-wringing about the death of innovation at Apple
Every time Apple releases a new iPhone, the shtick is the same: Skeptics say it's a minor improvement, that it's not groundbreaking enough, and that companies like Samsung are lapping Apple in the innovation department. And then, on the day the iPhones go on sale, millions of people go buy them anyway, and Apple lives on. The same thing should happen this time. (Bonus points for a blog post that begins, "Steve Jobs is rolling in his grave" or similar.)
Tim Cook's continuing dramatic education
Back when the iPhone 5 was released, bloggers and stage professionals wondered if Tim Cook would be able to sell iPhones like Steve Jobs once did. The answer to that was "no," but it didn't matter — the phones broke sales records anyway. Still, Cook has been working on his showmanship, and it shows — he's been far more polished in his recent appearances. We might not get a "one more thing" out of him, or a Michael Bay–esque breakdown, but Tuesday will be a good chance to see how Cook has done at filling Jobs's stage shoes.