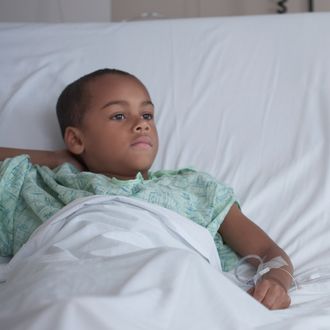 Don't cough on me, bro.
Photo: Blend Images/Corbis
As usual, children are to blame.
Central and upstate New York have confirmed more than a dozen cases of Enterovirus D68, an especially serious respiratory virus often confused for the common cold. At least 90 cases have been found since August in Colorado, Illinois, Iowa, Kansas, Kentucky, and Missouri, but EV-D68 has now made it all the way to the Northeast, one germ-magnet kid at a time. (Connecticut, too, has reported cases, although they have not yet been confirmed.) Happy back-to-school season!
Although the New York State Department of Health explained that more than 100 enterovirus strains infect some 10 to 15 million people every year, EV-D68, which is rare in the U.S. and can be traced back to California in 1962, is a particularly bad one known for intense flulike symptoms and severe shortness of breath. Adults can catch it, but it's mostly relegated to children, and can be dangerous for those with asthma.
Like most viruses that rise to the level of massive health scares, there's no real way to stop it. "It is important that we follow common sense rules to prevent the spread of this virus, as we do for flu and other contagious illnesses," said New York State health commissioner Dr. Howard Zucker in a statement. "Because there is no specific treatment or vaccination against this virus, our best defense is to prevent it by practicing proper hygiene."
"Hand washing is paramount, and teaching kids not to touch their faces with unwashed hands is the point," one specialist told HealthDay. Good luck with that.