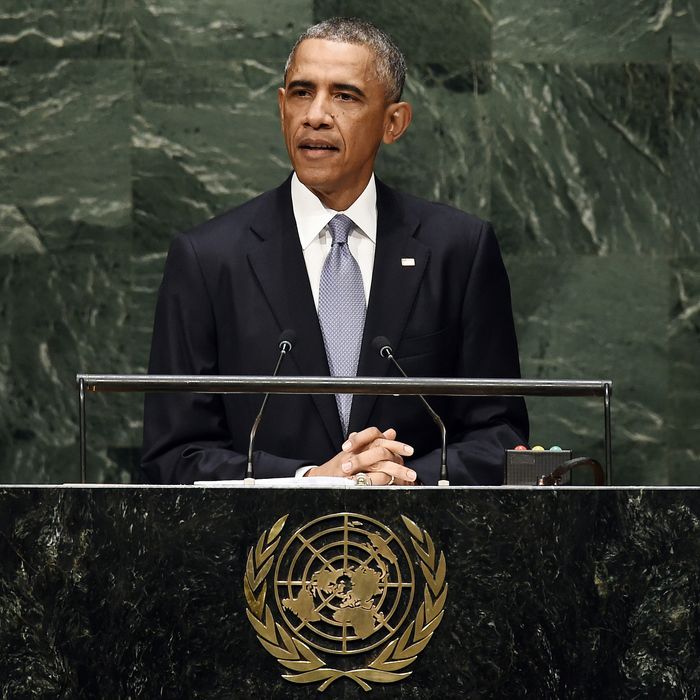 Photo: Jewel Samad/AFP/Getty Images
In his annual address to the United Nations General Assembly this morning, President Barack Obama attempted to tie together the wide-ranging spate of international crises currently threatening world order — from Russia's invasion of Ukraine to ISIS to ebola to the tiny town of Ferguson — while calling on the countries gathered to "solve their problems together."
As American bombs fall in Syria and Iraq, there are, Obama said, "two defining questions at the root of many of our challenges — whether the nations here today will be able to renew the purpose of the UN's founding; and whether we will come together to reject the cancer of violent extremism." Watch the full 40-minute speech below, or read an abridged version of the president's remarks on the hottest topics of the moment.
(The full text of Obama's speech can be read here.)
Ebola
As we speak, America is deploying our doctors and scientists – supported by our military – to help contain the outbreak of Ebola and pursue new treatments. But we need a broader effort to stop a disease that could kill hundreds of thousands, inflict horrific suffering, destabilize economies, and move rapidly across borders. It's easy to see this as a distant problem – until it isn't. That is why we will continue mobilizing other countries to join us in making concrete commitments to fight this outbreak, and enhance global health security for the long-term.
Iranian nukes
America is pursuing a diplomatic resolution to the Iranian nuclear issue, as part of our commitment to stop the spread of nuclear weapons and pursue the peace and security of a world without them. This can only happen if Iran takes this historic opportunity. My message to Iran's leaders and people is simple: do not let this opportunity pass. We can reach a solution that meets your energy needs while assuring the world that your program is peaceful.
Islam and the war on terror
I have made it clear that America will not base our entire foreign policy on reacting to terrorism. Rather, we have waged a focused campaign against al Qaeda and its associated forces – taking out their leaders, and denying them the safe-havens they rely upon. At the same time, we have reaffirmed that the United States is not and never will be at war with Islam. Islam teaches peace. Muslims the world over aspire to live with dignity and a sense of justice. And when it comes to America and Islam, there is no us and them – there is only us, because millions of Muslim Americans are part of the fabric of our country. […]

Here I'd like to speak directly to young people across the Muslim world. You come from a great tradition that stands for education, not ignorance; innovation, not destruction; the dignity of life, not murder. Those who call you away from this path are betraying this tradition, not defending it.

You have demonstrated that when young people have the tools to succeed –good schools; education in math and science; an economy that nurtures creativity and entrepreneurship – then societies will flourish. So America will partner with those who promote that vision.
ISIS
This group has terrorized all who they come across in Iraq and Syria. Mothers, sisters and daughters have been subjected to rape as a weapon of war. Innocent children have been gunned down. Bodies have been dumped in mass graves. Religious minorities have been starved to death. In the most horrific crimes imaginable, innocent human beings have been beheaded, with videos of the atrocity distributed to shock the conscience of the world

No God condones this terror. No grievance justifies these actions. There can be no reasoning – no negotiation – with this brand of evil. The only language understood by killers like this is the language of force. So the United States of America will work with a broad coalition to dismantle this network of death.
Israel and Palestine
As bleak as the landscape appears, America will never give up the pursuit of peace. The situation in Iraq, Syria and Libya should cure anyone of the illusion that this conflict is the main source of problems in the region; for far too long, it has been used in part as a way to distract people from problems at home. And the violence engulfing the region today has made too many Israelis ready to abandon the hard work of peace. But let's be clear: the status quo in the West Bank and Gaza is not sustainable. We cannot afford to turn away from this effort – not when rockets are fired at innocent Israelis, or the lives of so many Palestinian children are taken from us in Gaza. So long as I am President, we will stand up for the principle that Israelis, Palestinians, the region, and the world will be more just with two states living side by side, in peace and security.
Ferguson
I realize that America's critics will be quick to point out that at times we too have failed to live up to our ideals; that America has plenty of problems within our own borders. This is true. In a summer marked by instability in the Middle East and Eastern Europe, I know the world also took notice of the small American city of Ferguson, Missouri – where a young man was killed, and a community was divided. So yes, we have our own racial and ethnic tensions. And like every country, we continually wrestle with how to reconcile the vast changes wrought by globalization and greater diversity with the traditions that we hold dear.

But we welcome the scrutiny of the world – because what you see in America is a country that has steadily worked to address our problems and make our union more perfect. America is not the same as it was 100 years ago, 50 years ago, or even a decade ago. Because we fight for our ideals, and are willing to criticize ourselves when we fall short. Because we hold our leaders accountable, and insist on a free press and independent judiciary. Because we address our differences in the open space of democracy – with respect for the rule of law; with a place for people of every race and religion; and with an unyielding belief in the ability of individual men and women to change their communities and countries for the better.