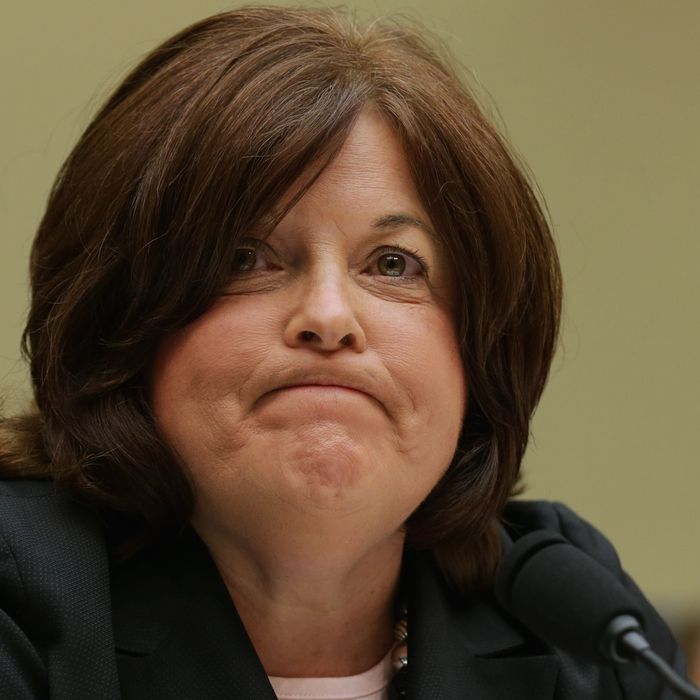 Pierson's bad day.
Photo: Chip Somodevilla/Getty Images
Julia Pierson, the director of the Secret Service, is very sorry a man was able to jump the White House fence and make it deep into the first floor of the president's home with a knife earlier this month. "I take full responsibility. What happened is unacceptable, and it will never happen again," she told the House Committee on Oversight and Government Reform at a hearing today, admitting, "I do not think the security plan was properly executed." Following the incident, they at least got an automatic lock.
After making his way through a glass door outside the White House's North Portico, Oscar Gonzazlez, a 42-year-old Iraq veteran, "knocked back" a Secret Service agent who was locking a wooden door inside by hand, Pierson explained, but it's since been upgraded.
"We learn from our mistakes," quipped Republican committee chair Darrell Issa.
Pierson said the Secret Service "has apprehended 16 individuals who have jumped the fence over the last five years, including six this year alone," but that she would try harder, "not only in response to this incident, but in general to bring the Secret Service to a level of performance that lives up to the vital mission we perform."
"I wish to God that you protected the White House like you're protecting your reputation right now," said Representative Stephen Lynch, a Democrat.
"I hate to even imagine what could have happened if Gonzalez had been carrying a gun instead of a knife when he burst inside the White House," added Representative Elijah Cummings. "That possibility is extremely unsettling."
Pierson has been in charge since March 2013 and has not yet mentioned resigning.
Update: It just keeps getting worse. The Washington Post has more (not included in Pierson's testimony):
The man who jumped over the White House fence and sprinted through the main floor of the mansion could have gotten even farther had it not been for an off-duty Secret Service agent who was coincidentally in the house and leaving for the night.

The agent who finally tackled Omar Gonzalez had been serving on the security detail for President Obama's daughters and had just seen the family depart via helicopter minutes earlier. He happened to be walking through the house when chaos broke out and the intruder dashed through the main foyer, according to two people familiar with the incident.