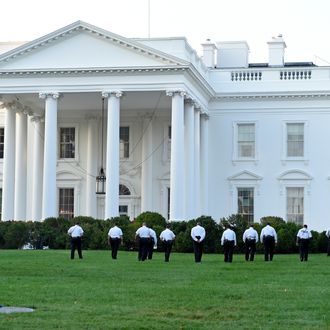 We must protect this house.
Photo: Susan Walsh
One of the two men arrested for trying to enter the White House over the weekend — the one who made it all the way through an unlocked door — was carrying just two-and-a-half-inch knife in his pocket. But in his car a few blocks away was a much bigger arsenal: two hatchets, a machete, and 800 rounds of ammunition — and it's not even the first time this summer Omar Gonzalez has been caught armed, with an eye on 1600 Pennsylvania Avenue.

According to federal prosecutors in court today, the 42-year-old veteran was stopped last month in front of the White House's South Lawn with a knife on his waist. After a search of his vehicle turned up no additional weapons, the New York Times reports, Gonzalez was released. But there was a previous, even more alarming incident:
In July, Mr. Gonzalez was arrested after he led Virginia troopers on a high-speed pursuit along Interstate 81 in Southwest Virginia in his Ford Bronco. After being stopped, police found the vehicle filled with weapons, according to a release by the state police.

Among the items found in Mr. Gonzalez's vehicle in July was a mini-arsenal of 11 guns including two shotguns and four rifles, some equipped with scopes and bipods that a sniper would use and "a map of Washington, D.C., with writing and a line drawn to the White House," law enforcement officials said. He also had four pistols, three of them loaded, and a revolver.
The Secret Service was apparently aware of the map and Gonzalez's "preoccupation with the White House," which only makes the security breach worse. The Texan was ordered to be held without bond until his next hearing on October 1.
Gonzalez served three tours in Iraq over an 18-year military career and is obviously going through something serious.