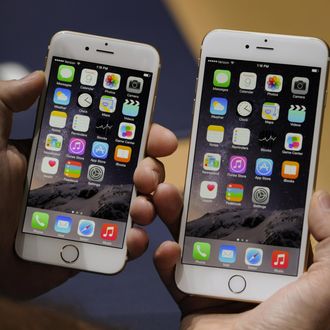 Photo: David Paul Morris/Bloomberg via Getty Images
The reviews are in, and like clockwork, users of the newest batch of iPhones are feeling a little bummed. It's almost as if fevered, senseless anticipation breeds deep disappointment. Here are all of the fatal flaws users are finding with the iPhone 6 Plus, Apple's stab at the "phablet." (I'm not even speaking English anymore, am I?)
1. It bends.
The iPhone 6 Plus's coolest new feature is that it bends if you sit down with it in your pocket. Many are displeased.
2. The new operating system sucks.
According to Mashable, iPhone 6 and iPhone 6 Plus users who downloaded the iOS 8 update had their cell service and Touch ID functionality killed.
3. You can use a fake fingerprint to gain access to the phone.
It takes some special gear, but the flaw means all your nudes could be vulnerable to especially enterprising hackers.
4. The screen is too big to type while you eat.
From Business Insider's Jay Yarow:
Wednesday, while I was setting up my phone, I was eating dinner — sausage sandwiches with potato chips, because I like to eat healthy. As a result, I did the whole thing one-handed. That wasn't too bad, but I did start to feel like my left hand was getting disjointed trying to bend my thumb around to hit various buttons.
5. Vibrate mode is simply too loud.
6. The screen is too big to discreetly view porn in public.
7. It looks like breakfast food.
8. It doesn't transport you to a fictional land.