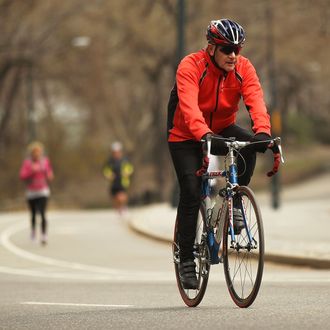 Photo: Spencer Platt/2011 Getty Images
A 59-year-old from Fairfield, Connecticut, the wife of a CBS executive, was critically injured while walking on West Drive near West 63rd Street in Central Park yesterday. Jill Tarlov, reportedly in town to buy a birthday present for her daughter, was struck by a cyclist on a racing bike, according to witnesses, when the 31-year-old rider swerved to avoid another group of pedestrians. The Daily News reports that the woman "was being kept alive by a ventilator"; the Post says Tarlov is "brain dead." No charges have been filed against the cyclist. 
A 75-year-old man was killed on the same road by a teenager on a bike in August, the Times notes.
"We don't expect for these kinds of injuries to be happening in Central Park," one rider told NBC New York. "It's rare for a pedestrian to be injured very seriously, and I hope that not all cyclists are indicted, because most of us ride very safely and are very protective of pedestrians."
"Because we are serious about reaching Vision Zero, we need to speak out in response to every preventable tragedy and condemn all acts of reckless behavior in traffic," said Paul Steely White, executive director of the pro-bike group Transportation Alternatives, in a statement. "As the most vulnerable users of our streets, pedestrians must be safe from reckless cycling, just as they need to be protected from reckless driving. This is particularly true in our parks. As we await the conclusion of the investigation, our thoughts are with Jill Tarlov and her family during this difficult time."