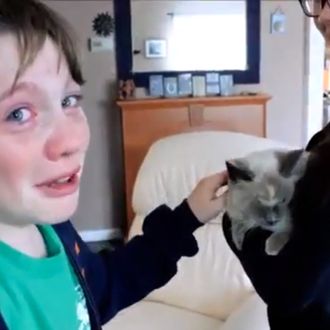 Between Boko Haram, violence at the Canadian Parliament, and Ebola showing up in NYC, it was another depressing week full of terrible news. But not everything's the worst! Here are some actually good things that happened this week.
1. A beloved pet cat was reunited with its happy owners. Maddy the cat was missing for two months before her owner found her following two little girls around a gas station. The owner managed to catch her kids' reaction to the reunion on video, and it is adorable and priceless.
2. A man saved a stranger from a fire. Michael Alcala was driving in Fresno, California, when he saw a duplex was on fire. Instead of driving on, he parked, calmly strolled into the house, and reappeared moments later with a victim of the fire slung over his shoulder. Both the victim and the hero survived the blaze.
3. Those heroic Secret Service dogs were rewarded with a day off for stopping crime. Jordan and Hurricane performed their duties perfectly, stopping a gate jumper from making his way to the White House. They were both bruised in the incident, but were cleared to return to duty yesterday — though they're getting one day off to spend napping, playing fetch, and growling menacingly at squirrels.
4. Taylor Swift's new album leaked. 1989 is the highly-anticipated fifth studio album from the best dang pop star in the world right now (I will fight you if you disagree).
5. A woman's diamond ring was recovered from a sewer manhole. A Pennsylvania woman's daughter was playing with her diamond ring when she accidentally flushed it down the toilet. But three local sewer employees worked overtime to recover the ring, which is about 100 years old and was given to the woman by her grandmother when she got engaged.
6. Several of the people diagnosed with Ebola have recovered. This includes Dallas nurses Amber Vinson and Nina Pham, Spanish nurse Teresa Romero, and NBC News cameraman Ashoka Mukpo. (Pham's adorable dog Bentley doesn't have the virus either.)
7. The only bookstore in the Bronx isn't shutting down after all. Though it was rumored to be shuttering, the Barnes & Noble in Co-op City will remain open for at least two more years.
8. We found a new hero, and she eats a lot of fried chicken. Who wouldn't spend a week at KFC mourning a breakup?
9. A dog survived a horrible fall thanks to the generosity of strangers. A 2-year-old husky-shepherd mix named Kenny survived falling 150 feet off a cliff in Oregon thanks in part to several strangers who donated to pay for his surgeries. Kenny is still recovering from his injuries, but is expected to make a full comeback.
10. Concerned neighbors raised money for James Tully. After learning that the police had stopped Tully over 20 times during his walks to work thinking he was Pennsylvania cop killer Eric Frein, strangers came together to raise money so that he could buy a car. 
Now go! Enjoy the weekend, bestowed with the knowledge that not everything is terrible (only most things are).