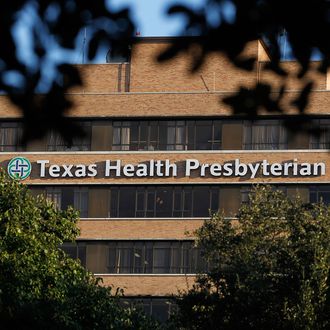 Photo: Mike Stone/Getty Images
According to Dallas health officials, close to 100 people may have come into contact with Thomas Eric Duncan, the Liberian citizen currently being treated at a Texas hospital for Ebola, or his home.
Four of his family members have been put on house arrest until October 19 so officials can monitor their symptoms, and several school-age children were told to stay home from school after they reportedly came into contact with Duncan.
Meanwhile, Hawaiian health officials are monitoring an unnamed patient showing Ebola symptoms, though they've been yet to actually be tested for the disease, and their travel history has yet to be revealed to the press.