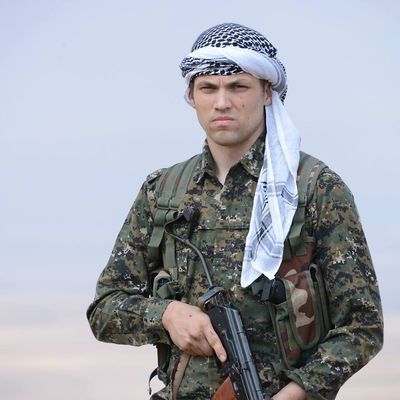 Photo: Courtesy of Jordan Matson
As the U.S. continues to launch air strikes against ISIS targets in the Middle East, at least three Americans are believed to be fighting the militants alongside Kurdish forces.
Redur Xelil, a spokesman for the Kurdish People's Protection Units (YPG), named one of the Americans as Jordan Matson — a Wisconsin native who was apparently injured in battle October 1 near Jezaa. The other two, while confirmed by Kurdish spokespeople, have not yet been named.
Matson is a 2005 graduate of Case High School in Racine, and served in the U.S. Army in 2006 and 2007. A man who identified himself as a friend of Matson's told Reuters that Matson planned on joining a private army. "He told us in the community that he was getting hired by a private army and he let us know two to three months in advance," Miguel Caron said. "He sent me a personal Facebook message on the 16th of September saying 'hey boss, I'm heading to Syria.' He told me he dropped his girlfriend and stopped looking for a job," Caron added.
On what appears to be Matson's Facebook page, there is a photo of him dressed in fatigues, posing against a desert background. In the comments, people who seem to be his friends debate whether the YPG allows facial hair among recruits.
State Department spokeswoman Jen Psaki said she was aware of these reports, but could not comment on the case because of privacy concerns.