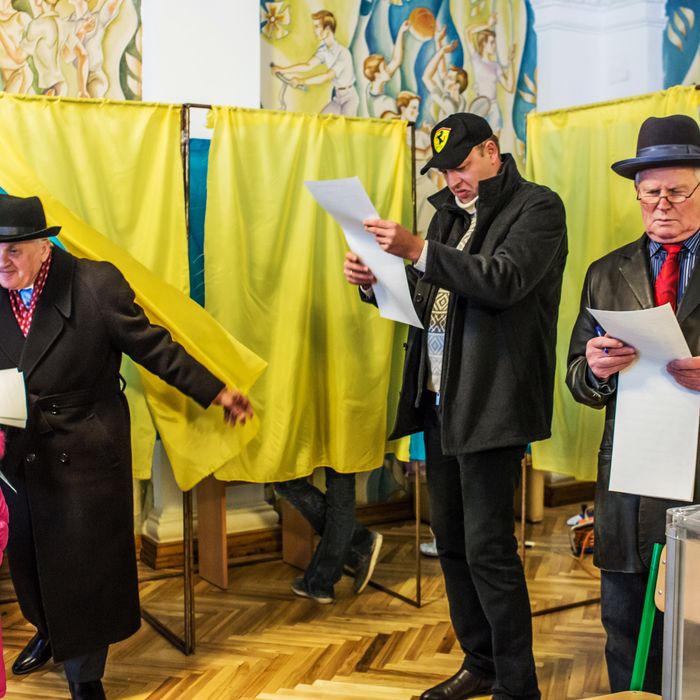 Photo: Brendan Hoffman/Getty Images
Ukraine elected a new parliament Sunday, after the ruling body was dissolved by president Petro Poroshenko in August. The results of the first parliamentary election since protests unseated former Ukrainian leader Viktor Yanukovych show pro-European parties winning handily in nationwide results. At the same time, some Russian-leaning opposition parties also registered strong showings in certain regions. Here are three things you need to know about the results.
1. Independent watchdogs say the voting went pretty smoothly.
Considering the country is, quite literally, still at war, it's amazing that huge voter fraud has not been reported in the first parliamentary election since the Euromaidan demonstrations. Instead, election watchdog group OPORA reported no serious violations in its tabulation of expected results — and, in fact, official tallies mirror its own numbers almost exactly:
Moreover, the voter turnout was over 51 percent — much higher than, for example, U.S. voter turnout in 2010. Perhaps unsurprising, turnout was highest in Ukraine's western regions and lowest in the contested east, where pro-Russian rebels are still at it. In some of those areas, there were heavy voting inconsistencies and challenges, while 15 single-member districts (mostly in Luhansk) didn't get a chance to cast their ballots at all while under rebel control. 
"The nearly 30 seats that will be left empty in the new parliament serve as a stark reminder that illegal armed groups prevented voters in some parts of the country from being able to vote," said Doris Barnett, a member of the Organization for Security and Co-Operation in Europe delegation that monitored the election.
2. The president's party, Bloc Petro Poroshenko, came in second — just a fraction of a point behind prime minister Arseniy Yatsenyuk's People's Front.
Both parties are pro-European, and Poroshenko was, shall we say, happy with the results:

This victory for pro-European parties, however, is bound to aggravate tensions in the east, where separatists are already worried that the Russian language and culture are taking a backseat in Kiev.
Yet the Opposition Bloc party, led by a former minister of the now-deposed president Viktor Yanukovych, got nearly 10 percent of the vote in a better-than-expected showing. Many of the party's politicians voted to crack down on the Euromaidan protests and passed draconian laws. Unsurprisingly, the Opposition party was most popular in the contested eastern regions, where it garnered more than 30 percent of the vote.
3. Batkivshchyna, the party of former Ukrainian prime minister Yulia Tymoshenko (it means "Fatherland" in Ukrainian), won the lowest percentage of votes of all the parties who got seats in parliament.
Orange is decidedly not the new black for the former PM, who spent about three years in prison before being released in February. Although she planned on a political resurgence, Ukrainians haven't been quite as eager to go back to her platform. (Those pesky politically motivated embezzlement accusations!) Now, if only her pro-European party would join with those of Poroshenko and Yatsenyuk for a governing coalition. If only.
The party did, however, elect a Ukrainian pilot being held by Russia to parliament, in hopes of securing the woman's release. Nadiya Savchenko is being accused of contributing to the deaths of Russian journalists in the country's contested Donbass regions. By all accounts, being in Russian prisons is pretty lousy.