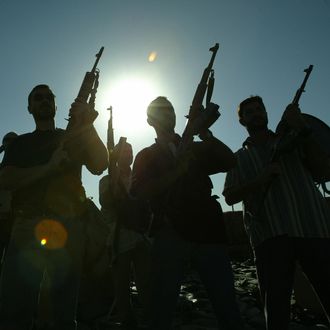 Photo: PATRICK BAZ/2007 AFP
In still more fallout from the disastrous Iraq War, four security guards from the private mercenary force formerly known as Blackwater have been found guilty in a 2007 shooting that killed 14 Iraqis and wounded 17 more. One, Nicholas Slatten, was convicted of first-degree murder, while three others — Paul Slough, Evan Liberty, and Dustin Heard — were found guilty of voluntary manslaughter, attempted manslaughter, and other gun charges. "The outcome after a summer-long trial and weeks of jury deliberation appeared to stun the defense," the AP reports. The word guilty was repeated 71 times.
Blackwater had been hired as private military contractors to protect diplomats in Baghdad. When a white Kia approached Nisur Square on September 16, 2007, the men opened fire, allegedly believing the vehicle to be carry a car bomb. From Reuters:
The government sought to portray the indicted guards as recklessly unleashing their massive firepower, including multiple grenades not designed to be used in urban areas, on innocent Iraqi civilians, including women and children.

Lawyers for the guards had argued that while the loss of life was unfortunate, the men were operating in a volatile war zone and used their weapons at Nisur Square only in response to incoming fire and a vehicle that appeared to be a car bomb.
In his closing statement, prosecutor Anthony Asuncion argued that there were "no insurgents, no AK-47s, just people seeking shelter from these men."
After the ruling, a lawyer for the defense said, "The verdict is wrong, it's incomprehensible. We're devastated. We're going to fight it every step of the way. We still think we're going to win."
A diplomat from Iraq said his country "will welcome this decision."