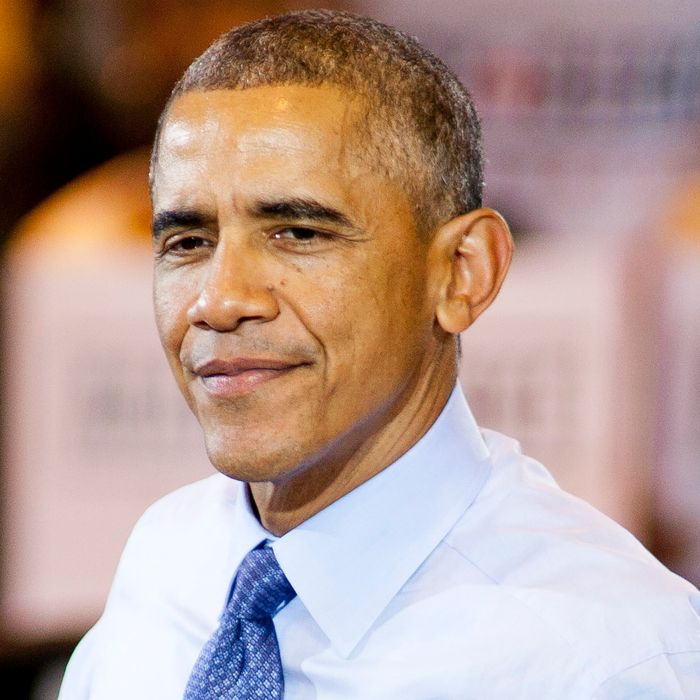 Photo: Darren Hauck/Getty Images
Next week's elections will determine who runs the country for the next few years, but Americans appear to be far more concerned about important issues like the state of Renée Zellweger's face and figuring out whether they even want to know what Gamergate is. 
Thus we at Daily Intelligencer are compiling a daily roundup of all the midterm excitement you're missing out on. In today's installment, President Obama tries not to drive away Democratic voters, a gay man defends his Republican mom against her gay opponent, and a Senate candidate makes an ad about the Washington football team because he doesn't think politicians should be talking about the Washington football team. We promise, it all (sort of) makes sense.
Obama Hits (Parts of) the Campaign Trail
President Obama is generally considered toxic to Democratic candidates, but his party has found something for him to do in the final week of the campaign. The president has been tasked with energizing voters who might otherwise stay home on Tuesday. He'll be appearing in Maine, Michigan, Connecticut, and Pennsylvania — an itinerary carefully designed to keep him far from the closest Senate races.
On Tuesday, he kicked off his trip with a rally for Mary Burke, who's running against Wisconsin Governor Scott Walker. It's already clear that Democrats are playing it extremely safe when it comes to deploying the commander-in-chief. At 51 percent, Obama's favorability rating is about 10 points higher in Wisconsin than in the rest of the country, and he addressed a mostly African-American crowd in a Milwaukee ward where he won 99 percent of the vote in 2012.
Birther Movement
Charlotte Clinton Mezvinsky can take some time off to focus on being a baby because this week she isn't the most controversial infant in politics. Representative Dan Maffei, a Democrat from upstate New York, stands accused of being a creature of Washington because his daughter Maya was born in a D.C. hospital in July. Republican John Katko has also pointed out that Maffei's wife works in D.C., and the house he owns there is far more expensive than his home in his district.
"Where my baby was born, she was born in Washington and that allowed me to make every single vote for this Congressional District while I was also being a good father," Maffei responded in a debate this week. "Now she's here, of course." Maffei said his wife and daughter should be out of bounds, "And if it's not out of bounds, then maybe politics is as broken as everybody says." Sounds about right.
Race Issues in North Carolina
The battle between North Carolina Senator Kay Hagan and Republican Thom Tillis is the most expensive Senate race in the country, and it seems the two sides are competing to see who can use that money to create a more inflammatory racial attack. The African-American vote is crucial for Hagan, and recently the Harry Reid–backed Senate Majority PAC has been airing an ad that suggests Tillis is paving the way for more cases like Trayvon Martin's. "Tillis even led the effort to pass the kind of Stand Your Ground laws that caused the shooting death of Trayvon Martin," the ad says, though George Zimmerman's lawyers did not invoke the law in his defense.
In response, American Commitment, a conservative super-PAC, has launched this ad, which claims, "Desperate to hold on to power, Obama, Reid, and Hagan are shamelessly race-baiting, and it's only going to get worse this weekend."
Meanwhile, a group attempting to draft conservative Dr. Ben Carson is running a radio ad that makes dubious assertions about abortion. The narrator wonders if Hagan cares that one in three "babies aborted in America are black?" and "the future of our community is being killed off," then asks Hagan, "Why should we vote for you when you don't even want our babies?"
Then there's this cable spot, which tells blacks that by voting Hagan they've "only traded one plantation for another":
And just to add another confusing layer, at a Hagan rally on Saturday, which Hillary Clinton headlined, Alma Adams, a state legislator running for Congress, declared, "We need to send 'Uncle Tom' — Tillis, that is — home." It's important to note that Tillis is white.
Gay Son Takes on Mom's Gay Opponent
Republican Nan Hayworth is hoping to unseat Democrat Sean Patrick Maloney, the first openly gay member of the House from New York. Throughout the campaign, Maloney has tried to portray her as an extremist loyal to the tea party, but her final ad attempts to show that she differs from most of her party on at least on issue.
"As a gay man, coming to terms with who I am wasn't easy," says Hayworth's son Will. "But my parents love me for who I am and for whom I love. So when I hear viscous negative attacks against Nan Hayworth, I have to speak out."
Hail Mary Pass
Oneida Indian Nation's "Change the Mascot" campaign is condemning an ad Senate candidate Ed Gillespie, a Virginia Republican, ran during Monday Night Football in which he declared the Washington football team should be allowed to decide what to call themselves. It's an odd move since his opponent, Senator Mark Warner, is one of the only members of the Senate who hasn't taken a stand against the slur.
Even weirder: Gillespie argues that lawmakers should "focus on creating jobs, raising take home pay and making our nation safer" rather than wasting time talking about a football team's name … in an ad that focuses solely on the football team's name.