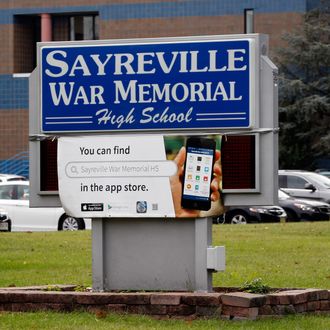 Photo: Mel Evans/AP/Corbis
Seven students at a New Jersey high school were charged with crimes related to a disgusting locker-room hazing ritual and subsequently arrested this weekend. As part of the hazing, Sayreville War Memorial High School football players would allegedly pin down a freshman teammate, stick a finger into his rectum, and then sometimes force the finger into the player's mouth. 
According to NJ.com, the charges are as follows:
… three were charged with aggravated sexual assault, aggravated criminal sexual contact, conspiracy to commit aggravated criminal sexual contact, criminal restraint, and hazing for engaging in an act of sexual penetration upon one of the juvenile victims. One of those defendants and four others were charged with various counts including aggravated assault, conspiracy, aggravated criminal sexual contact, hazing and riot by participating in the attack of some of the victims.
The scandal has divided an otherwise placid riverside community in north-central New Jersey. Last week, the local school superintendent decided to cancel the entire football season due to the allegations.