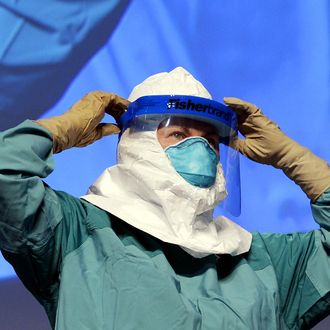 Photo: Timothy A. Clary/AFP/Getty Images
You are not going to get Ebola on the subway. You are not going to get Ebola in your Uber. You are not going to get Ebola in a semi-ironic Williamsburg bowling alley. You are almost definitely not going to get Ebola at all.
Dr. Craig Spencer and his quarantined friends aside, "There is no reason for New Yorkers to be alarmed," said soothing dad Bill de Blasio last night. "Ebola is an extremely hard disease to contract." Walking down the street in New York City every day is far riskier. Even city dwellers' most common irrational fears — crashing scaffolding, crashing Seamless — are more likely than contracting Ebola, because at least they've happened to more than one person. Using that complex math, we've determined that the following things, however unlikely, are still worth fearing over Ebola.
1. Just About Every Other Virus
The flu. Enterovirus D68. The 18 unknown virus species carried by rats. And so on …

2. Rats That Aren't Scared of Humans
And, as noted, are known to carry all sorts of previously unseen horrors …
3. Mites That Suck the Blood of Humans and Come From Rats
RAT MITES. Like bedbugs, but from rats. And harder to see.
4. Being Pushed Onto the Subway Tracks
It doesn't happen often enough to only take the bus or move to Cleveland, but it does happen.
5. Falling Air Conditioners
Ditto.
6. #myNYPD
And not just lawbreakers who got more than they deserved: the innocent, the people nearby, and even the officers themselves are potentially at risk.
7. Rent Hikes
They're coming for all of us, even Queens.
8. That Condom on the F Train
It was there for three damn weeks.