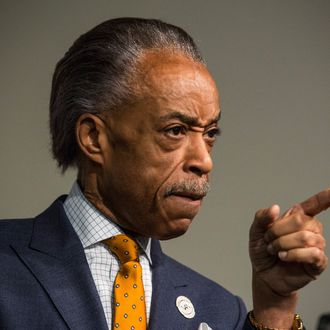 Photo: Andrew Burton/2014 Getty Images
The Daily News has officially dubbed him the "incredible shrinking Sharpton," but how exactly did reverend and civil-rights activist Al Sharpton manage to shed 60 percent of his body weight? If his daily food diary is to be believed, he did it the same way you did it after watching that Lifetime movie sophomore year of high school: by simply not eating.
According to the News, Sharpton consumes about 1,000 calories a day, walks daily on a treadmill, and doesn't eat after 6 p.m. Since sticking to this plan, which he's been doing for years, Sharpton has dropped from 305 pounds to 129.6 pounds — which, according to doctors, is just two pounds away from landing him in the "underweight" category.
Here's his slightly worrying food diary:
Whole wheat toast, 3 slices = 300 calories (15 g of protein)
Doctor Earth green juice from Juice Press, 2 bottles = 360 calories (4 g of protein)
Salad with egg and balsamic vinaigrette = 240 calories (6g of protein)
Banana = 100 calories (1g of protein)
Total = 1,000 calories and 26g protein. For a man of his age and weight, 2,000 calories and 56g protein are typical.
"I'm conditioned now so that I never get hungry," Sharpton says.
Same. Now, should I eat Chipotle or Chipotle for lunch?