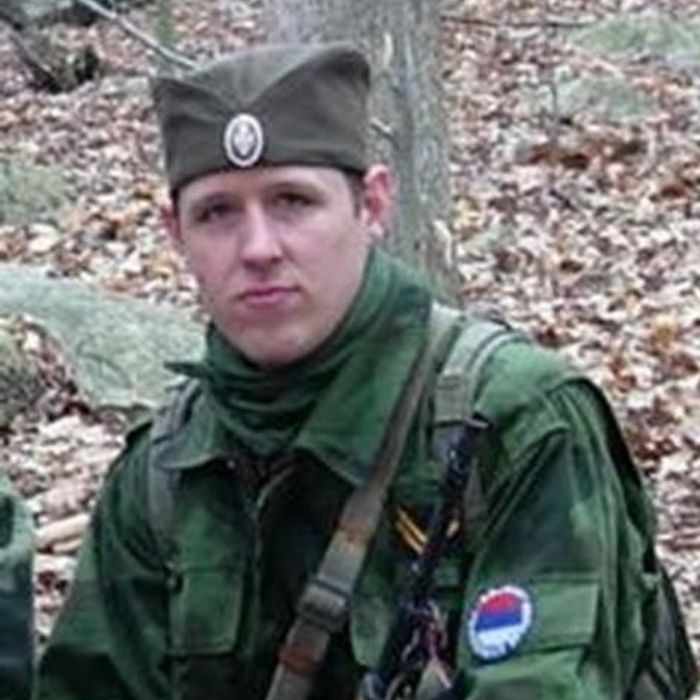 Eric Frein, the 31-year-old survivalist suspected of killing one Pennsylvania state trooper and seriously wounding another in an ambush last month, was captured alive on Thursday. Frein, who was one of the FBI's ten most wanted fugitives, has eluded police for 48 days as he hid out in the woods of the Pocono Mountains. He was captured in an abandoned airport hangar at the Birchwood-Pocono Airpark by federal marshals on routine patrol, according to WPVI. While Frein was reportedly armed at the time, he surrendered to the marshals peacefully.
A state police spokeswoman would only say, "I can confirm that we have taken Eric Frein into custody. Further information will be released at a later time." A WBRE reporter tweeted a photo said to show Frein in custody:
Police say Frein ambushed two state troopers during a shift change at the Blooming Grove barracks on September 12, killing Bryron Dickson and seriously wounding Alex Douglass, who remains hospitalized. Over the next seven weeks, 1,000 officers hunted for the suspect, and at times schools were closed and residents were ordered to shelter in place. Towns in the region had canceled deer hunting and trick-or-treating because Frein was still on the loose.
Officers spotted Frein on several occasions, though always at a distance. "I almost think this is a game to him,"said Lt. Col. George Bivens of the state police. They also found many items believed to belong to Frein, which Bivens said may have been strategically placed in an attempt to throw them off the trail. They included a pack of the Serbian cigarettes Frein smoks, soiled diapers, an AK-47-style assault rifle, ammunition, and two pipe bombs.
In a bag of trash left at a hastily abandoned campsite, they found a journal in which Frein appeared to describe the attack on the troopers. "Got a shot around 11 p.m. and took it," he wrote. "He dropped. I was surprised at how quick. I took a follow-up shot on his head, neck area. He was still and quiet after that."
Frein has been charged with first-degree murder and attempted murder. Pennsylvania Governor Tom Corbett said Frein was being held in the handcuffs that belonged to Bryron Dickson, the officer he's accused of killing.