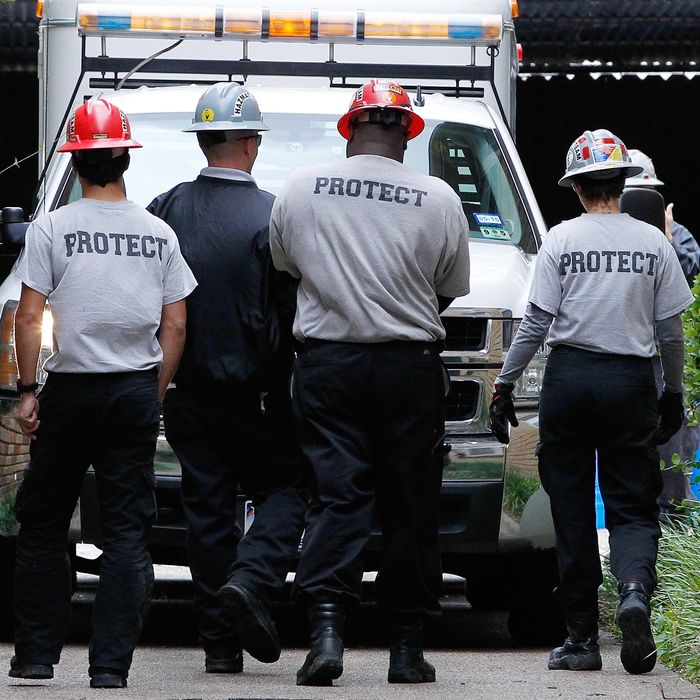 Photo: Mike Stone/Getty Images
A second member of the team who cared for Thomas Eric Duncan, the first Ebola patient to be diagnosed in the U.S., has tested positive for the deadly virus. Amber Vinson was put in isolation Tuesday after spiking a fever.
Vinson also flew home from Cleveland the night before her symptoms appeared. Asymptomatic patients are not contagious, but the CDC is interviewing all passengers aboard that flight — Frontier Airlines 1143 Cleveland to Dallas/Fort Worth on Oct. 13 — because her symptoms appeared so shortly after returning home.
Secondary samples are on their way to the CDC to confirm the diagnosis as officials interview Duncan's entire treatment team, which consisted of nearly 100 people, to determine whether they may have been exposed. This new incident of transmission, however, is raising concerns that Texas Health Presbyterian Hospital was not at all ready to handle infectious Ebola cases.
"They kept adding more protective equipment as the patient [Duncan] deteriorated. They had masks first, then face shields, then the positive-pressure respirator. They added a second pair of gloves," CDC epidemiologist Pierre Rollin told the Washington Post. 
According to Rollin, the hospital added protective gear on the fly, including adding "buddies" to watch those drawing samples from Duncan and acquiring full-body Hazmat suits with respirators. Nurses said that gear initially included gloves that didn't tape at the wrist and gowns that left their necks open, and the hospital improvised ways to cover them up as it went along. The workers also allege other lapses that could have resulted in hospital-wide contamination, and said in a statement organized by nurses' unions that they felt "unsupported, unprepared, lied to and deserted to handle their own situation."
"An additional health care worker testing positive for Ebola is a serious concern, and the C.D.C. has already taken active steps to minimize the risk to health care workers and the patient," the CDC said in a statement.
In a more positive development, the first health-care worker to contract Ebola in the U.S., Nina Pham, is said to be in good condition. 
This post has been updated throughout.