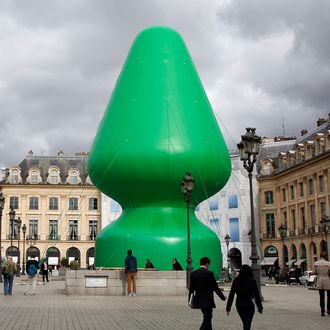 Photo: Chesnot/Getty images
American artist Paul McCarthy has erected a giant Christmas tree sculpture at Place Vendome in Paris as part of a contemporary art fair. Unfortunately for him, locals are angry because it looks way more like a butt plug than a holiday decoration.
So far, a right-wing, anti-gay-marriage group has opposed the sculpture, which, like, shut up. McCarthy himself is used to causing a stir with his art —he's also responsible for a piece called Complex Pile, which is literally an inflatable pile of poop.