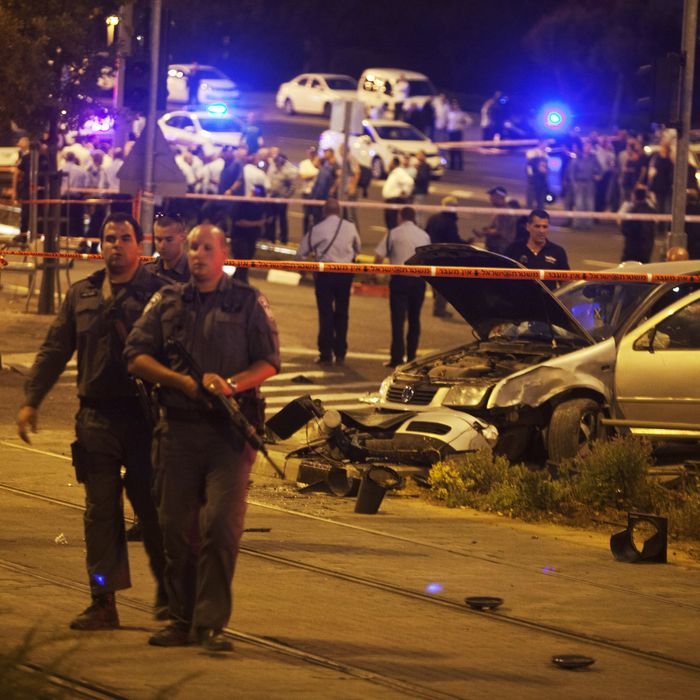 Photo: Lior Mizrahi/Getty Images
Wednesday was a bloody day in Israel, as attacks in different parts of the country killed an infant and wounded ten others. The second attack, in Jerusalem, comes after weeks of escalating tensions between Jews and Arabs in the city over homes in a contested neighborhood.
The morning began with an attack along the border at Sinai, where two IDF soldiers were hurt. Egypt's Sinai is a hotbed of jihadist activity and has little oversight; as such, people were quick to assign blame to Ansar Beyt al-Maqdis, an extremist group in the region. The Washington Post, however, reports that the incident was actually a "violent drug smuggling attempt."
Later in the day, a Palestinian resident of East Jerusalem rammed his car into a Jerusalem light rail station, killing a three-month-old baby. Eight others were injured. "Police arrived on the scene, and the driver was shot as he attempted to flee the vehicle," said police spokesman Micky Rosenfeld.
The driver was identified as Abd al-Rahman al-Shaludi, and authorities say he had previously been arrested on terrorism charges. Israeli Prime Minister Benjamin Netanyahu didn't hesitate to blame Palestinian leader Mahmoud Abbas for the attack.
"This is how [Abbas's] partners in government act, the same Abbas who just a few days ago incited attacks on Jews in Jerusalem," Bibi said in a statement, linking the attack to Hamas, a terrorist group and political party with whom Abbas's Fatah party recently joined in a unity government.
The attack also comes after a tense month that has seen Jewish Israelis slowly moving into homes in the largely Arab neighborhood of Silwan, in East Jerusalem, at night and under police protection. In response, Palestinians have been rioting out of fear that this is a slow but sure start to pushing them out of East Jerusalem entirely. Al-Shaludi, the perpetrator of Wednesday's attack, is a resident of this neighborhood.
The United States condemned the housing plan earlier this month. "This development […] [will] call into question Israel's ultimate commitment to a peaceful negotiated settlement with the Palestinians," said State Department spokeswoman Jen Psaki. "This step is contrary to Israel's stated goal of negotiating a permanent status agreement with the Palestinians, and it would send a very troubling message if they proceed with tenders or construction."