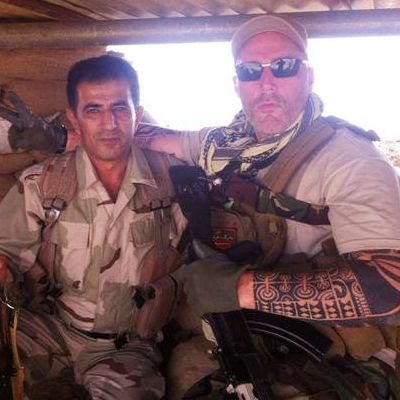 Who's that heavily tattooed guy in a T-shirt and stylish European sunglasses, dwarfing the Kurdish fighter to his right? Apparently, that's Ron — just one of several Dutch bikers who've taken up arms with Kurdish soldiers against ISIS.
Ron is one of at least three members of the No Surrender biker gang now believed to be fighting in Iraq near Mosul, according to the gang's leaders.  The photo first appeared last week on a Dutch-Kurdish Twitter account.
They're not the first foreigners to join the anti-ISIS battle. In addition to the government-sanctioned air strikes, several Americans are also believed to be fighting alongside Kurdish forces on the ground in Kobani, Syria.
And doing so falls into a legal gray area, according to Dutch law. "Joining a foreign armed force was previously punishable, now it's no longer forbidden," Wim de Bruin, a spokesman for Dutch public prosecutors, told AFP. "You just can't join a fight against the Netherlands."
Citizens joining ISIS will be prosecuted, because it is a terrorist organization, but fighting against it is technically all right. However, No Surrender members may cross the line if they join the far-left PKK, a Kurdish nationalist organization fighting ISIS in Kobani, which is also designated as a terrorist group by the EU.