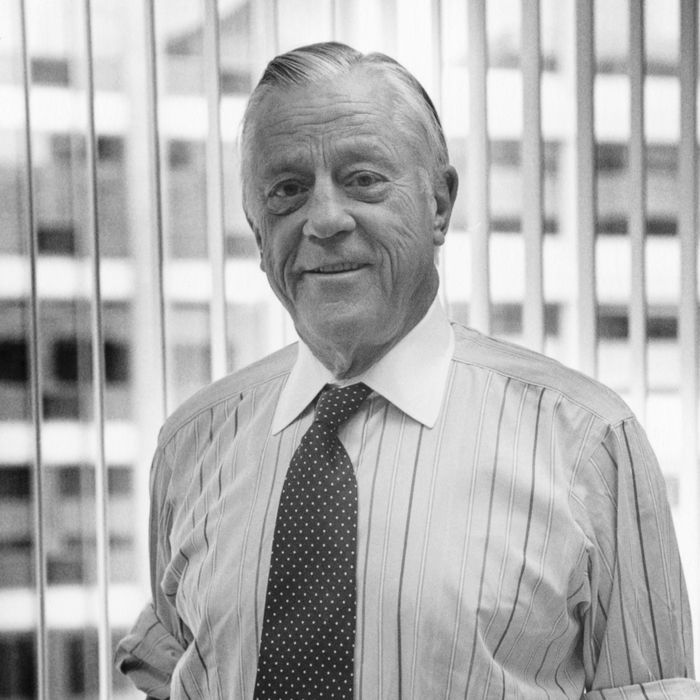 Photo: Christopher Felver/CORBIS
Ben Bradlee, the Washington Post editor who presided over the paper's transformation into a national newspaper and its coverage of the Watergate scandal, died in his Washington, D.C., home on Tuesday of natural causes. Bradlee had been in hospice care after suffering from Alzheimer's disease for several years. He was 93.
Bradlee was perhaps the most influential newspaper editor of his time. He's best known for urging on two young reporters, Carl Bernstein and Bob Woodward, to keep digging as they exposed the scandal stemming from the 1972 break-in at the headquarters of the Democratic National Committee. The paper published around 400 articles about Watergate over 28 months, leading to the only resignation of a U.S. president and the imprisonment of more than 40 people.
"He was a presence, a force," Woodward said of Bradlee's role during the Watergate scandal. "And he was a doubter, a skeptic — 'Do we have it yet?' 'Have we proved it?'" He added that the words he most dreaded hearing from Bradlee were "You don't have it yet, kid."
While his role in Watergate made him a celebrity — and won actor Jason Robards an Oscar for his portrayal of the editor in All the President's Men — Bradlee's influence on journalism went far beyond the scandal. After working as a reporter at Newsweek — which he successfully encouraged Philip L. Graham, the Post's publisher and owner, to buy in 1957 — the Navy veteran and Harvard alum joined the paper as its deputy managing editor in 1965. At the time it was a sleepy local paper, but Bradlee had higher ambitions. During his quick rise to executive editor in the late '60s, he brought on new talent and stationed correspondents around the world. "I was simplistic," he said of his early strategy in 1991. "If you made the paper better every day, and you got better people working for you, and you reached higher, the paper would get better."
In 1969 he replaced the paper's daily "For and About Women" page with a new section called Style. It made feature-length lifestyle reporting, which was mainly being published in news magazines at the time, a newspaper staple. Two years later, the paper faced its biggest challenge to date when it decided to publish the Pentagon Papers, though the Nixon administration had already won a federal court injunction against the New York Times. Eventually the Supreme Court ruled that the government could not restrain the press.
Bradlee retired as executive editor in 1991, after the Post won 18 Pulitzers during his tenure (not including one it returned after it was discovered that reporter Janet Cooke fabricated a story about an 8-year-old drug addict). Bradlee had four children over the course of three marriages. He has been married to the writer Sally Quinn since 1978.
Bradlee was awarded the Presidential Medal of Freedom, the country's highest civilian honor, last year by President Obama. "For Benjamin Bradlee, journalism was more than a profession – it was a public good vital to our democracy," Obama said in a statement on his passing. "A true newspaperman, he transformed the Washington Post into one of the country's finest newspapers, and with him at the helm, a growing army of reporters published the Pentagon Papers, exposed Watergate, and told stories that needed to be told – stories that helped us understand our world and one another a little bit better."