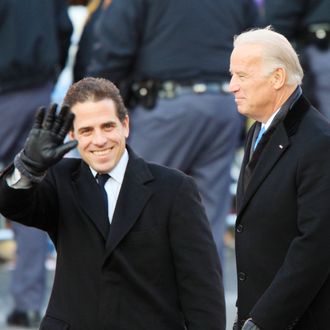 Photo: David McNew/2009 Getty Images
There's embarrassing news out of the Biden camp tonight, and for once it doesn't involve the vice-president. The Wall Street Journal reports that Joe Biden's 44-year-old son Hunter was discharged from the Navy Reserve in February after a drug test he took in June 2013 tested positive for cocaine. Hunter, a lawyer who is a managing partner at an investment company, only decided to join the service two years ago. Before he was commissioned as a public-affairs officer in the Navy Reserve he needed two waivers: one because of his age and another because of a drug-related incident when he was younger.
Hunter is married with three children. His older brother Beau is the Delaware attorney general, and Joe and Jill Biden often discuss his yearlong deployment in Iraq as a member of the Delaware Army National Guard and how proud they are to be a military family.
"It was the honor of my life to serve in the U.S. Navy, and I deeply regret and am embarrassed that my actions led to my administrative discharge," Hunter said in a statement. "I respect the Navy's decision. With the love and support of my family, I'm moving forward."