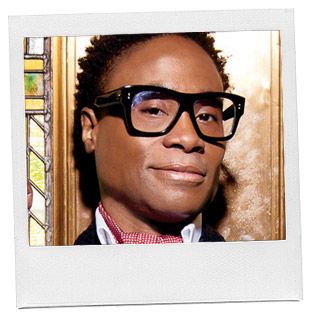 Name: Billy Porter
Age: 45
Neighborhood: Harlem
Occupation: Artist. Tony-winning actor, Kinky Boots. Playwright, While I Yet Live, which runs through October 31.

Who's your favorite New Yorker, living or dead, real or fictional?
Billy Strayhorn. He's a genius, and grew up in my neighborhood in Pittsburgh, black, gay, and out. He paved the way for me, and he wrote one of the quintessential jazz songs of all time, "Lush Life."
What's the best meal you've eaten in New York?
Unfortunately, I have too many friends who own restaurants in this town to single one of them out without backlash. I respectfully decline the question.

In one sentence, what do you actually do all day in your job?
I try to bring a message of acceptance and love to the world through the power of theatre.

What was your first job in New York?
I was in the ensemble of the original cast of Miss Saigon when I was 21 years old. It was my Broadway debut, and it was interesting because we were being picketed and boycotted all the time by the Asian American community because they cast Jonathan Pryce in the role of the Engineer. Cameron Mackintosh almost canceled the show!

What's the last thing you saw on Broadway?
If/Then.

Do you give money to panhandlers?
On occasion, yes.
What's your drink?
Single Malt Scotch. Laphroaig 18 is my favorite at the moment.

How often do you prepare your own meals?
Three to four times a week. I wish I had the time to cook more. It's a secret passion of mine.

What's your favorite medication?
White Lady Pills … [Editor's Note: Ambien.]

What is the best thing in or about your apartment?
The view I have of the midtown skyline.

What's the craziest thing you've ever seen on the subway?
Someone mistaking the corner seat for a toilet.

When was the last time you stayed out past 3 a.m.?
Opening night of Kinky Boots.
Which do you prefer, the old Times Square or the new Times Square?
I like old seedy, drug-littered, prostituted Times Square. 

What do you think of Mayor de Blasio?
I have not formed an opinion yet. I wish him well.

What do you hate most about living in New York?
Sometimes regular, everyday tasks are very hard to achieve. And the piss smell in the summertime.

If you could banish one person from New York forever, who would it be?
I don't make a habit of banishing folks from anything. I wouldn't want nobody doin' that shit to me. 

When's the last time you drove a car?
This morning to go to the grocery store. I have a car in the city now, so I drive all the time. I learned to drive when I was a teenager from watching my mom and dad drive — by looking at the rhythms of their feet on the pedal and steering wheel, and the first time I ever sat behind the wheel I drove perfectly. I knew I had to be a great driver, 'cause I had to get the fuck out of where I was! 

Finish this sentence: The NYPD _____.
… is having a rough time at the moment.

Times, Post, or Daily News?
The Times — all day.

Where do you go to be alone?
My newly finished apartment.

What makes someone a New Yorker?
You gotta live here for at least a decade with no need to flee.