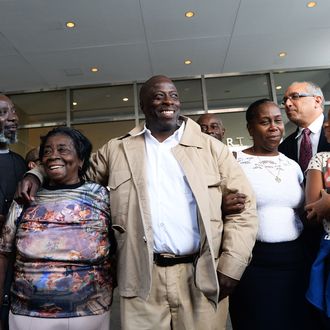 Photo: JEWEL SAMAD/AFP/Getty Images
David McCallum, 45, left court a free man on Wednesday after serving 29 years for a kidnapping and murder that prosecutors now say he didn't commit. The New York Times reports that in 1985 McCallum and his friend William Stuckey, who were both 16 at the time, confessed to forcing 20-year-old Nathan Blenner into his car at gunpoint in Ozone Park, Queens, killing him with a gunshot to the head and leaving his body in Brooklyn's Aberdeen Park. 
The boys quickly recanted, and an examination by the Conviction Review Unit established by recently elected Brooklyn district attorney Kenneth Thompson found their confessions contained numerous contradictions and details that were apparently fed to them. Thompson said there "is not a single piece of evidence" connecting the two men to the crime, and slammed his predecessor Charles Hynes, saying, "I inherited a legacy of disgrace with respect to wrongful convictions." Investigations by the new review unit have led to eight convictions being vacated this year.
Now McCallum and Stuckey have been added to that list, but tragically the exoneration came too late for Stuckey, who died in prison 13 years ago at 31. "I want to go home, finally," McCallum said after leaving court. "It's a bittersweet moment because I'm walking out alone. There's someone else that is supposed to walk out with me but unfortunately he's not."