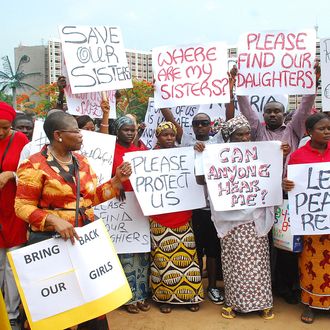 Photo: PHILIP OJISUA/AFP/Getty Images
Last week, the Nigerian government said it had reached a temporary cease-fire with the militant group Boko Haram that would include the freeing of more than 200 schoolgirls kidnapped earlier this year, inciting international outrage (and not much else). But almost a week later, it is not looking good at all: According to Reuters, Boko Haram kidnapped 25 more young women last night. "John Kwaghe, who witnessed the attack and lost three daughters to the abductors, and Dorathy Tizhe, who lost two, said the kidnappers came late in the night, forcing all the women to go with them, then later releasing the older ones," says the heartbreaking report.
"We are confused that hours after the so-called ceasefire agreement has been entered between the Federal Government and Boko Haram insurgents, our girls were abducted by the insurgents," said the father. "We urge the government to please help rescue our daughters without further delay, as we are ready to die searching." Boko Haram is also suspected in a bus station bombing Wednesday that killed at least five people in another Nigerian town.
The Islamist group had previously confirmed diplomatic talks with the government of President Goodluck Jonathan, who is campaigning for reelection in early 2015. A spokesperson for Boko Haram said the girls were "in good condition and unharmed." It's clear now, however, that Jonathan's government was acting prematurely in flaunting the agreement in the press.
"I sense Nigeria rushed to announce the deal with electoral-political calculations in mind," said one expert. "Getting a victory with the schoolgirls and a short-term truce with Boko Haram could be positive for President Goodluck Jonathan's campaign." Failing to do so could be disastrous.