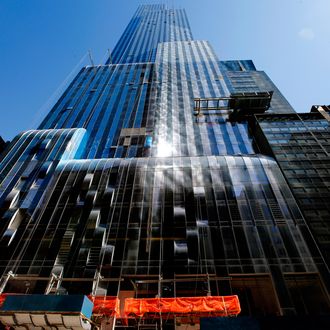 One57 is probably out of your price range.
Photo: Mike Segar/Reuters/Corbis
The inventory crunch that's been plaguing Manhattan's real estate market lately? Looks like we may have rounded that bend, judging from third-quarter reports released today by brokerage firms. Though the number of properties up for sale are still at frustratingly low levels, the Corcoran Group reports that inventory has increased by 10 percent from this time last year, with each of the last three quarters posting incremental gains.
But only large apartments: Urban Compass found 19 percent more four-bedroom or bigger units on the market last quarter; every other size apartment, from studios to three-bedrooms, actually saw inventory shrink, per their numbers. The under a million market inventory dwindled, not grew. In contrast, the $10 million and up market grew by 41 percent from last year.
Though the median price is up 4.2 percent from last year to $908,242, sales are down by 13.3 percent, according to Douglas Elliman's survey. It's taking a little longer — about four days more, so not a massive shift but a shift nonetheless — to find buyers, too. "Buyers are not desperate, they're aggravated," says appraiser Jonathan Miller, who prepared Elliman's survey. "They're mad as hell, but they're still taking it." He says tight lending standards continue to limit starter-home buyers, who have to compete with all-cash types, and there are plenty of them; roughly 45 percent of sales are cash deals. "No housing market can be truly considered normalized until credit normalizes," says Miller.
Diane Ramirez, CEO of Halstead Property, says though the market's inarguably strong, some buyers are choosing to wait for new listings so they can get an apartment that would at least be as close to their ideal, if not in price then at least in quality. "The last three quarters, when we've had these incredible increases, first of all, it's not sustainable," she says. "And it's causing buyers to be on the sidelines [asking], 'If I'm paying this [much], it has to be perfect. If it's not, should I be paying these record prices?" Adds Miller: "We're not seeing the same sense of urgency."
Starter-apartment buyers specifically have been standoffish, says Urban Compass' Sofia Song, who points out that the number of studios and one-bedrooms going into contract from July to September — a data point that hints at what the future holds since market reports are based on closed sales and contracts usually translate into closed sales — dipped by a combined 8 percent. (Contracts for two-, three-, and four-bedrooms, on the other hand, rose between 3 and 13 percent.) It doesn't help that most of the new projects hitting the market right now are skewing expensive, and larger. "It's the entry-level buyer that gets shut out," Song says. "Because there's so little product, there's not much for them to act on."
And it doesn't look like developers will be much help in that department, either — at least not anytime soon. With prices for Manhattan's undeveloped parcels making leaps — the average for the borough now hovers at around $500 per buildable square foot, according to commercial brokerage firm Massey Knakal, plus construction and marketing costs — Song says it's no surprise that many of the projects she's seeing in the pipeline are aiming to sell at $2,500 per square foot. "These new developments coming online are at such high price points because they have to be."