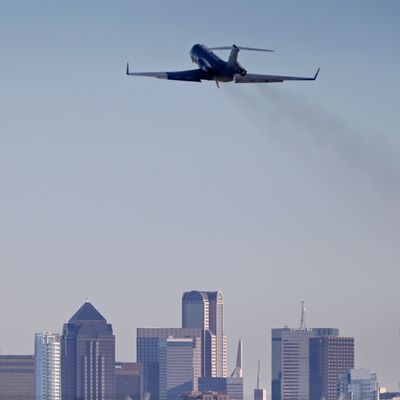 An air ambulance carrying Amber Vinson takes off from Love Field Airport on October 15, 2014.
Photo: Stewart F. House/2014 Getty Images
Confidence in the CDC's ability to contain the spread of the Ebola virus has been waning, and on Wednesday night the agency admitted it made a fairly big mistake. Hours after CDC director Dr. Thomas Frieden said Amber Vinson, the second Dallas nurse diagnosed with Ebola, "should not have traveled on a commercial airline," a federal official told CNN that she called the agency to say she was planning on flying to Cleveland and wasn't told she couldn't fly. At the time, Vinson was being monitored for the disease after treating Ebola patient Thomas Eric Duncan, and she had a slight fever.
CBS News reports that Vinson called several times before boarding the flight and reported that she had a temperature of 99.5 degrees. She was allowed to fly because only a fever of 100.4 degrees or more is considered "high risk." "I don't think we actually said she could fly, but they didn't tell her she couldn't fly," an anonymous federal health official told the New York Times. "She called us," he said. "I really think this one is on us."
While her symptoms did not appear until she returned home, the CDC is interviewing the 132 passengers who flew with her on Monday. Vinson recently got engaged and was traveling back to Cleveland to plan for the wedding with her mother. Family friend Charlene Blankenship Rollins said she never would have taken the trip if she thought she was ill. "Heavens, no — not at all," she told the Daily News. "I'm telling you, I have seen these people stop to give a homeless person a meal, take them to a restaurant. They would never hurt anyone intentionally."
Following news of Vinson's diagnosis, President Obama canceled his travel plans for a second day and met with his cabinet to discuss the Ebola outbreak. After the meeting, he promised "a much more aggressive response" to the situation in Dallas. He said officials will review "every step" of Duncan's care to determine what went wrong, and he announced that the CDC will deploy "SWAT teams" within 24 hours to any hospital that reports a new Ebola case to assist hospitals that don't have experience dealing with the virus.
While it seems the CDC was overconfident in its ability to contain Ebola, President Obama stressed that the chances of a widespread outbreak in the United States are still "extraordinarily low." To prove his point, he described his recent visit to Emory University Hospital. "I shook hands with, hugged and kissed not the doctors, but a couple of the nurses at Emory, because of the valiant work that they did in treating one of the patients. They followed the protocols, they knew what they were doing, and I felt perfectly safe doing so," Obama said.