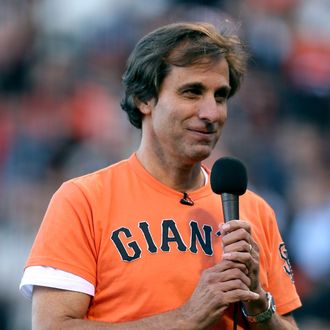 Chris Russo.
Photo: Christian Petersen/Getty Images
Chris "Mad Dog" Russo spent 19 years partnered with Mike Francesa on WFAN's influential "Mike and the Mad Dog" radio show. During that time, Russo's beloved San Francisco Giants always came up short of a championship, leading to rants like this famous one from 2003. Tonight, though, the Giants will play in Game 1 of the 2014 World Series, in which they'll try to capture their third title in five seasons. Russo will be hosting SiriusXM's "Mad Dog Unleashed" and MLB Network's High Heat on site during the series, but he'll be sitting in the stands once the games begin. Says the Mad Dog: "I can't watch this game in the press box." Russo spoke with Daily Intelligencer after the NLCS about how the Giants are the new Yankees, why he's picking Kansas City, and how New York fans still associate him with his favorite baseball team.
Was watching the ending of Game 5 of the NLCS as a Giants fan different considering how much success they've had in recent years?
To me it was, personally. I don't know if the 42,000 in the ballpark feel that way. This is just me, yes. I mean, it's not the same. The Giants have won two championships. They've won all these series. I was waiting for a Giants championship 45, 46 years. It's not going to be quite the same to me as it would be for somebody who may not have been as intense for the Giants as I had been. Remember, most fans in that ballpark, they're not as intense for the Giants as … I mean, they can claim they were, but you and I both know that in 1972, they weren't sitting on the East Coast, 13 years of age, seeing if the Giants beat the Reds, at two o'clock in the morning, so it's a little different for them than it would be for me. I can surely appreciate the moment, and it is an incredible home run.
For a team to do what the Giants have done — eight straight postseason series, all these games on the road, to sweep the Cardinals in AT&T, I mean, it's very Yankee-like what they have done here. There's been an incredible amount of drama for the Giants in the last six years, three postseasons, just like there were for the Yankees for seven or eight years. Very similar from that standpoint. But it's not the same. I gotta be fair. I don't want to lie. I don't want to sit here and say that I'm going crazy, crazy, crazy, like i was in '10, and, in a certain degree, 2012. But it's certainly dramatic.
You brought up the Yankees. All those years you were on New York radio, talking about the Yankees dynasty, did you in your wildest dreams imagine the Giants could have that kind of success?
No, never in my wildest dreams. Remember, the Yankees won 11 series in a row in '98, '99, and 2000, and then 2001 before the Diamondbacks beat them. The Giants have now won eight. Never, ever in my wildest dreams did I ever think the Giants would do this. Remember, the Giants — they didn't win anything from 1958 on. The Giants had incredible heartbreak when they were in the postseason. I'm not going to go through the litany of it. But they had incredible heartbreak.
And for the Giants to put together this run, where guys like Aubrey Huff, and Jose Uribe, and Renteria, and Ishikawa, and Romo, and Wilson. I mean, the Giants have won the pennant three times in five years with three different closers. I mean, think about that for a minute. Three different closers in the last five years. The Yankees didn't do that. They had Mariano every single time. I mean, the Giants have their Jeter in Posey. You have that correlation. The Giants have their Torre in Bochy. But what the Giants are doing with all these resourceful young players, these guys that nobody's ever heard of: Matt Duffy. Juan Perez. Joe Panik out of nowhere — like Shane Spencer was for the Yankees. If you look deep — and I will look deeper than most, because I lived with the Yankees on the radio, hating them. So I would appreciate the comparison, probably, the most.
Looking ahead to the World Series, the Royals are sort of the darlings of the baseball world, between their winning streak and how much their fans have suffered over the past couple of decades. It feels like the country is rooting for the Royals here.
This is a tremendous World Series for what you just said. Now, whether it resonates with America, we'll wait and see. But I think the fact that the Royals haven't won in 30 years, the fact that they've got an incredible amount of mojo, they have a lot of karma. And they go up against a team that has lived on karma for three postseasons in a row; they're going up against a team that has experience, guile, been there, done that. You've got two great fan bases. Two very good stadiums. Incredibly enthusiastic fan bases. Kansas City, you'd expect, because they haven't been there. But San Francisco is completely into it, as we all know. It's more of a Giants town now than it ever was a 49ers town. That's hard to believe when they had Montana, Rice, and five championships.
To me, as a sports fan, there is a lot of sex appeal with this World Series. Bottom line to me is, the Giants have scored a ton of runs against lousy relief pitchers. They are not going to score those runs against Kansas City's bullpen, I don't think. I think the difference in this series will be the Royals' Herrerra, Davis, and Holland, will not allow the Giants to have these late uprisings. And I think that's why, believe it or not, it's heresey, when they read this, they're going to puke, but because of that, I think the Royals are going to win. Now it might take seven games, but I think the Royals are going to win.
The Giants were an 88-win team. At the start of the playoffs, did you think they could do this again this year?
I did not think so. I thought they did a good job getting into the postseason. I look at sports sometimes as a law of averages, and I just thought the Giants were going to run out of a little bit of luck. I thought the Giants were due to have the bloop single fall for the other guys, instead of falling for the Giants. So I did not expect this. I thought they would lose the first game against Pittsburgh. I thought that once they won it, they'd be a complete pain in the neck with the Nationals, and I thought they'd come up a little short. And then, once they won that, I picked the Cardinals in seven. Now I'm picking the Royals in seven. Maybe I should keep on doing this, and they'll win another one.
This Giants team reminds me a little of the 2000 Yankees. That Yankees team, going for their third championship in a row, this Giants team, going for their third championship overall. Giants didn't finish great. Yankees that year lost 15 of 18 to finish the season. The Yankees were in trouble in the opening round. They had to play on the road. They did this, they did that. And then they found their mojo in the postseason. I think the Giants have a lot of that going on.
Do you credit Bruce Bochy for their continued success? Is it more the front office?
A combination. I think anytime in sports where you have this kind of synergy, I don't think you can give one guy more credit than the other. Sabean has done a phenomenal job. He does an excellent job with his bullpen. When was the last time the Giants bullpen cracked, in these last eight postseason series? How come everybody else's bullpen cracks? He puts together that unbelievable bullpen year in and year out. That's the one area where the GM can really go out there and make a big difference.
And Bochy does a phenomenal job of finding these role players to make contributions. They puyt Ishikawa out in left field, look what he does. They find Joe Panik out of nowhere, put him at second base, all of a sudden he's freakin' Frankie Frisch. Matt Duffy. Gee, Matt Duffy? Who? What? And then he goes out there and lays down a wonderful bunt. Susac, the catcher — what? Never heard of him. Gets a big base hit in the ninth inning in Game 2. The Giants are really, really good at this. They got it going. When you get into this cycle of winning, when you get into a situation where the culture starts to believe that no matter who you put in there, we're gonna figure out a way — when you get into that — and that's what the Yankees were. Chad Curtis. Shane Spencer. Luis Sojo. Scott Brosius. Once you get into that situation, when all of a sudden, everybody buys in and these average players become heroes for a short period of time, it's hard to get into that. But once you do, all bets are off. And that's where the Giants are right now. And that's where the Giants were all these years.
Anything else you want to say, looking ahead to the series?
It's amazing how many New Yorkers still affiliate me with the Giants. Everywhere I go, Giants this, Giants that. Sometimes I'm actually surprised how my relationship with the New York fan over 19 years is still more centered around the Giants and their futility in big spots than it is around anything else. So when I see them, they look at me bewildered that I somehow won, and I'm not on New York radio to scream and yell about it. So I find that interesting.
This interview has been edited and condensed.