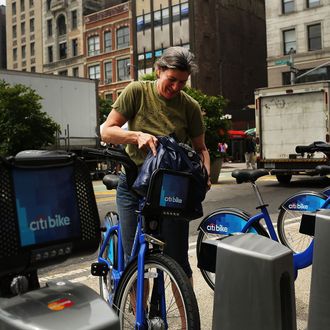 Photo: Spencer Platt/Getty Images2013 Getty Images
With the long-rumored rescue of Alta Bicycle Share, the struggling company behind NYC's Citi Bike, now official, it's time for some improvements. Capital New York confirmed the sale on Friday to REQX Ventures, an investment firm connected to Equinox gyms and Related, the real-estate developers responsible for Hudson Yards, and thanks to the fresh funds, the fleet will grow to 12,000 bright blue bikes. In charge of the expansion will be former MTA chairman Jay Walder, the Daily News reports. You know what that means: price hikes! 
Walder, who has also run the transit systems in London and Hong Kong, is expected to be named today at a press conference in Long Island City, according to the News, which adds, "City officials had refused to greenlight hikes in the program unless new management was brought in." 
Although Citibank is expected to stay on as a sponsor, Walder will be charged with figuring out how to make Citi Bike as profitable as it is popular (although renewals did drop after year one), and that's bad news for those waiting until next spring to sign up. An annual membership will reportedly climb about 50 percent, from $95 to $145 or more. Even though it's about to get miserably cold, the time to buy is still now.
Update: Citi Bike has announced the specifics in a blog post titled "Expansion! Woo hoo!"
Our system will double in size by 2017. New neighborhoods will be added to our system beginning in 2015. By the end of 2017 we will have 6,000 additional bikes and over 375 new stations. The first new stations will be installed in northern Williamsburg, Greenpoint, Long Island City and further into Bedford-Stuyvesant, all neighborhoods originally planned to be part of Citi Bike's initial deployment.
The new annual rate will be $149. "We will let you know in the coming days when the rates will increase."