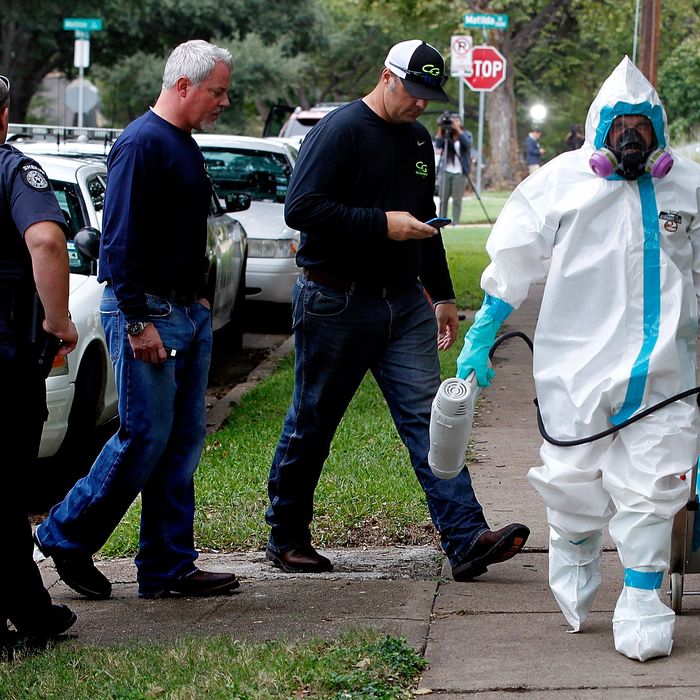 Photo: Mike Stone/Getty Images
No matter how many times the CDC tells people that only direct contact with the bodily fluids of symptomic Ebola patients can spread the virus, Americans continue to freak out and take overly drastic measures. In the latest examples of paranoia, two schools in Ohio and three in Texas have opted to close for disinfecting because students and teachers maybe, possibly had some minor contact with Amber Vinson, the nurse who flew between Cleveland and Dallas the day before she showed symptoms of Ebola. And yet …
In Akron, Ohio, officials dismissed students at the Resnik Community Learning Center at midday and said it would remain closed until Monday. In a letter to parents, the schools superintendent in Akron, David W. James, said that "a parent at the school had spent time with Ebola patient Amber Vinson when she visited the area this past weekend." […]

In Central Texas, the superintendent of the Belton Independent School District, south of Waco, said that a student at Sparta Elementary School and a student at North Belton Middle School had been on the same flight as Ms. Vinson on Monday.
Despite what CDC director Dr. Thomas Frieden said was the "extremely low" chance of anyone on Vinson's flight becoming infected, the adults and kids in question have submitted to a 21-day voluntary quarantine, just in case.
But at another Ohio school, the reasoning is even worse:
In Solon, a Cleveland suburb of about 23,000, two schools were closed on Thursday because a district employee returned to Ohio "on a different flight, but perhaps the same aircraft, as the Texas nurse with Ebola," the district said in an email to parents.
As the medical experts have said over and over and over again — and as Shep Smith explained to even the most paranoid Fox News viewers yesterday — that is not how people get Ebola.
"It's not a rational decision," Dr. Andrew T. Pavia, the chief of pediatric infectious diseases at the University of Utah, told the Times. "And it's harmful, in that it's going to further spread misunderstanding and irrational fear."
"As long as nobody kissed the person on the plane," another doctor explained, "they're safe."
Unfortunately, as we'll likely continue to see in the coming days and weeks, misguided school closures spread much more easily.