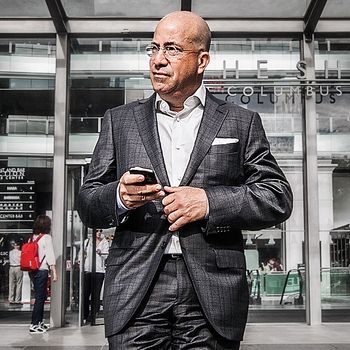 Jeff Zucker: A man with a plan?
Photo: Dina Litovsky
Yesterday afternoon, Turner Broadcasting CEO John Martin announced that the company will reduce its headcount by 10 percent, eliminating 1,475 positions in the coming weeks. At CNN, that means 300 positions will be cut through a mixture of buyouts and layoffs. Martin, a numbers-driven former Time Warner CFO, drew up the plan — known as Turner 2020 — to streamline the company's sprawling businesses, which include the cable networks CNN, HLN, TNT, and TBS, among others. The efficiency effort took on new urgency in July, in the wake of Time Warner CEO Jeff Bewkes's decision to rebuff Rupert Murdoch's takeover offer. Murdoch's offer had been $85 a share (and he was expected to go up to $90), so now Bewkes needs to show Wall Street that he can drive Time Warner's stock up to $100. "He's got to prove he didn't make a mistake," one Time Warner source told me. Cutting costs at Turner have become central to achieving this goal. "All piss trickles down hill," the source said.
CNN staffers described the memo to me as "harsh," "soulless," and "a disaster." "It was just greeted with disdain," one producer said. The frustration stems from the fact that CNN is having a record year of profits. It will make $600 million this year, and, according to sources, the network is on track to generate a $1 billion profit by 2017 on the strength of its long-term cable subscriber deals. "The company is making money, why cut so much?" asks a senior producer. "We're not like the New York Times, which can't sell enough ads." Meanwhile, Turner is spending billions on a new, nine-year rights deal to broadcast the NBA.
In my recent profile of CNN president Jeff Zucker, he discussed a new strategy of bringing high-quality and expensive original programming to CNN — which would seem hard to do given the massive cuts. But Zucker told me the staff reductions will not derail his plans. "This is not going to hamstring the three priorities I've set: Our ability to cover breaking news around the world. Our original series. And digital," he told me. "You have to do it in a way that the viewer is never going to know." 
Still, he admitted that "you can't do everything." Over the past year, Zucker already shifted resources. "I shut down CNN Radio, I shut down CNN Latino. I reallocated money from there," he said. CNN's massive Atlanta operation has been talked about as another source of cuts. "Atlanta is dead," one New York–based executive told me. According to sources familiar with the cuts, Zucker is eyeing back-office departments in Atlanta as a way to achieve his head-count reduction. Atlanta-based staffers have already been on edge. Earlier this year, Zucker moved the bulk of CNN's on-air talent to New York. "There's a lot of people in Atlanta. No doubt," Zucker told me.
But the cuts are also a reminder that Zucker doesn't have the free reign he enjoyed as CEO of NBC Universal. CNN, after all, is only a division of Turner Broadcasting, which in turn is a division of Time Warner. For a man who used to be the boss, having to answer to a boss has been disorienting. Last year, for instance, Zucker wanted to bring on Bewkes's communications chief, Gary Ginsberg, as a deputy, but then-Turner CEO Phil Kent resisted the idea. This winter, Turner president David Levy forced out longtime CNN advertising executive Greg D'Alba against Zucker's wishes. Levy called Zucker only after he had told D'Alba of the decision, which angered Zucker. 
These tensions with Turner executives have led to speculation that Zucker could be a rival with Levy for the Turner CEO job. When I asked Zucker about it, he flatly dismissed the notion. "Everybody can't accept that I just want to run CNN," he said. "I don't know how to disprove it to people. Really, I'm doing exactly the job I want to do. I've done that other job. This is more fun. And incredibly challenging."