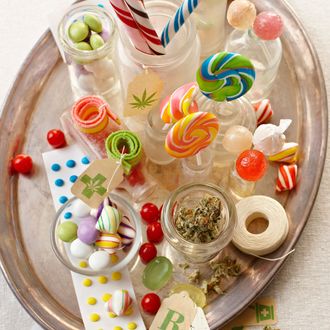 Photo: Lew Robertson/Corbis
Bad news for middle-aged moms: Colorado health officials are recommending a ban on most forms of marijuana edibles, after unceasing concerns over people confusing pot-laced goodies for the regular old stuff, the Associated Press reports. Those working on regulation worry that unlabeled products may confuse consumers, and are also considering a color-coding scheme or other ways to identify foods that will get you high.
The Health Department, though, is going further than simply identifying: It will suggest that edible sales be limited to lozenges and tinctures, eliminating brownies, cookies, and pretty much any other way people actually want to consume weed. After the meeting meant to weigh options, the final decision will be up to the department of revenue.
In one of the more absurd manifestations of this hysteria, parents freaked out over the possibility of stoners handing out weed-infused candies to fourth graders on Halloween. Because that's what every pothead lives for: giving strangers' children very expensive candy.
Maureen Dowd & Co., meanwhile, should probably start working on their inhaling skills.