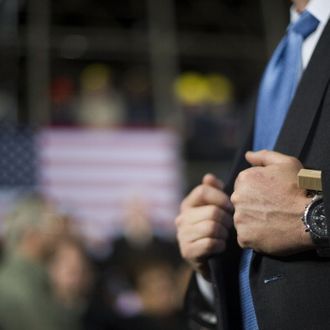 Photo: Jim Watson / AFP/Getty
David Nieland, the Department of Homeland Security's lead investigator into the Secret Service's ill-fated Colombia trip in 2012, quietly resigned over the summer after he was spotted during a prostitution sting, the New York Times reports. Just a little field research?
According to the Times, Nieland was stopped by police in south Florida while leaving a building that was under surveillance for sex work, but "he showed them a badge, officials said, and told them that he was part of an undercover human trafficking operation with agents from the Department of Homeland Security." Classy. Then he told his office he'd been stopped for a broken tail light.
A woman interviewed later, however, identified Nieland in a photo and said he'd paid for sex. (He denies the claim and has not been charged; a criminal investigation is ongoing.)
As head of the inspector general's Miami office, Nieland was tapped with leading an internal review of the scandal that ended with the firing of eight Secret Service agents and a change of leadership at the agency, plus allegations by Nieland that the White House was covering something up.
Earlier this month, the Washington Post reported Nieland's claims that he'd been told "to delay the report of the investigation until after the 2012 election" and "withhold and alter certain information in the report of investigation because it was potentially embarrassing to the administration," namely the finding that a 25-year-old White House volunteer had also brought a prostitute to his room. (The White House said it found that part to be untrue and denied scrubbing the report.) But all the while, Nieland had his own issues involving sex workers.
He's a colorful guy, at least, the Times reports:
In 2013, according to department officials, Mr. Nieland accused the inspector general's office of retaliating against him for making those allegations when it suspended him for two weeks without pay after he circulated photographs that he had taken of a female intern's feet.

The intern asked to be transferred out of the office after the incident. Mr. Nieland, according to the officials, said he had circulated the images as a joke.
And here's how he marked his retirement in August, when he cited health problems, three months after his prostitute incident:
#USA #1!