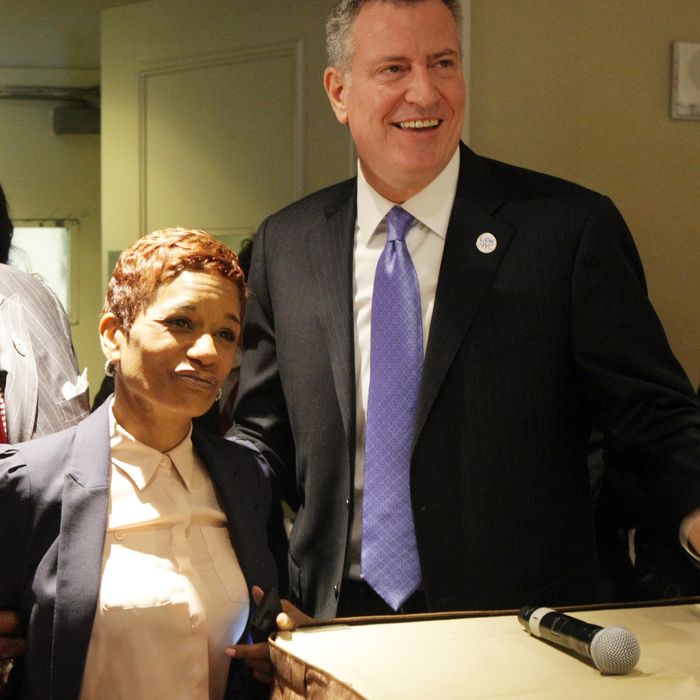 Mayor de Blasio initially stood by Rachel Noerdlinger, a senior adviser on civil rights and First Lady Chirlane McCray's chief of staff, when reports first surfaced about her live-in partner's past convictions for manslaughter and drug trafficking. (His anti-cop blog posts didn't help either.) "I have full faith in Rachel," he said a week ago. "You don't fire people because of something their boyfriend said." But maybe you do if they failed to disclose that boyfriend at all. (Update: Noerlinger has been cleared of any wrongdoing. See below for more.)
DNAinfo reported on Thursday that Noerdlinger did not mention her cohabitation with Hassaun McFarlan — who was also arrested last year for almost hitting a New Jersey officer with Noerdlinger's car during a pursuit — when she filled out the required "Background Investigation Questionnaire." In fact, she did not mention him at all, according to sources.
"A FALSE STATEMENT OR INTENTIONAL OMISSION … MAY RESULT IN THE IMPOSITION OF DISCIPLINARY PENALTIES, INCLUDING TERMINATION OF EMPLOYMENT OR DISQUALIFICATION FROM FUTURE EMPLOYMENT AND, IN ADDITION, MAY SUBJECT YOU TO CRIMINAL PROSECUTION," warns the form.
The New York Times adds that city investigators have opened an inquiry on the matter. "The administration knows of no action being taken against Rachel, but does know that she comes to work every day committed to serving the people of our city across the five boroughs on the critical issues that matter," said de Blasio's office in a statement. Defenders point out that her last job, as the top aide to Al Sharpton, made her a target of local police unions. The mayor's "full faith," however, may not ultimately be enough.
Update: The Department of Investigation probe found "no criminal wrongdoing or intent to mislead," NBC New York reports. Noerdlinger will keep her job.