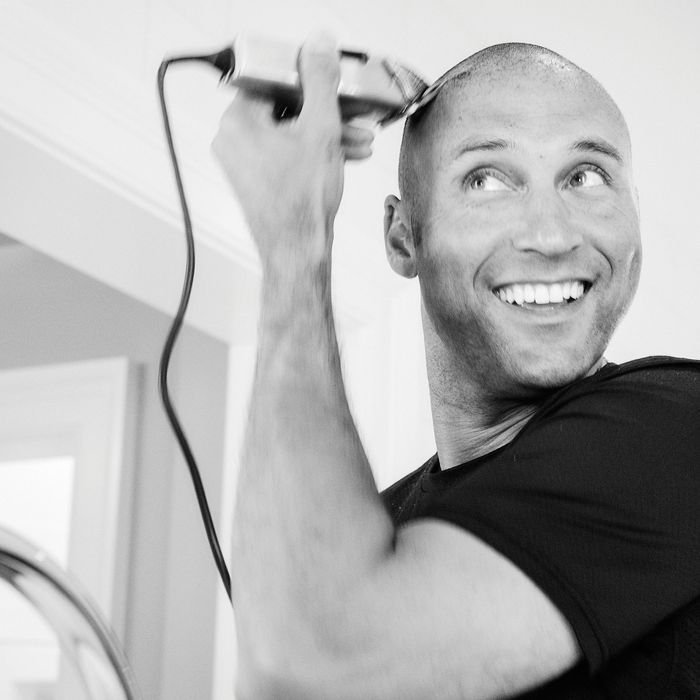 Photo: Christopher Anderson / Jeter Publishing
So this is what Derek Jeter was hinting at and dodging confirming. Officially retired from baseball for about 60 hours, Jeter has started rolling out his multimedia play, moving fast to capitalize on the glow of his farewell tour by announcing "The Players' Tribune" this morning. The site will include written articles as well as podcasts and video, all from the perspective of players. An essay attributed to Jeter says he's "in the process of building a place where athletes have the tools they need to share what they really think and feel. We want to have a way to connect directly with our fans, with no filter."
There are many ironies here. Jeter's shining off-field image is founded not just in good behavior, but in 20 years of zealously withholding what he really thinks and feels. Some of what he feels, apparently, is that the media that's mostly built him into an icon has still, somehow, "distorted" and misunderstood him. Now he wants to help other athletes replace the "filter" of journalism with the filter of … Jeter. That's one of the things that makes his first real publishing effort, "Jeter Unfiltered," such an interesting middle-ground and template: The book has terrific documentary-style photographs from Christopher Anderson, but it is not an independent documentary. Jeter approved every image that will appear in the book.
Jeter will have significant financial help in spreading that approach from print to the web, TV, and, possibly, the movies. Thomas Tull, the CEO of Legendary Pictures (The Dark Knight, The Hangover) and a part owner of the Pittsburgh Steelers, is a prime backer of the Players' Tribune. But there are interesting challenges beyond money: Will Jeter try to recruit stars who are represented by other agents and publicists? Will he try to prevent his clients from talking to traditional media outlets, or perhaps broker "collaborations" like Lebron James's July announcement, via Sports Illustrated, that the King was returning to Cleveland?
There's a precedent for Jeter to learn from: a website called Athletes Direct, which attempted something similar for three years during the dot-com boom, before shutting down in 2001. Since then, the media industry has only grown more fragmented, providing Jeter a real business opening, if his project is something more than slick, sanitized publicity. The networks and the web will continue to dominate live coverage of sports events, but traditional sports journalism print outlets are struggling, and sports blogs offer commentary but not much access to players. Two weeks ago, when I asked Jeter if all of that gave him space to create something new and profitable, he laughed. "You've been doing some research," he said. So too, clearly, has Derek Jeter.