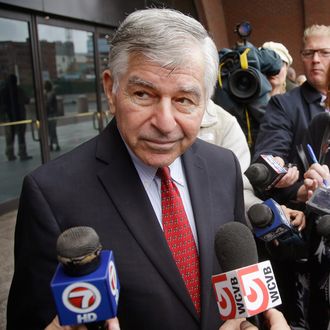 Photo: Stephan Savoia/AP/Corbis
A former friend and classmate of Boston Marathon bomber Dzhokhar Tsarnaev now charged with lying to the FBI has a bizarrely high-profile witness on his side: former Massachusetts governor and failed presidential candidate Michael Dukakis, an old family friend. The politician took the stand today for the defense of Robel Phillipos, who allegedly watched as two of Tsarnaev's bros disposed of evidence from his dorm room after the attack. His lawyers say he was too stoned to remember what he saw anyway.
Phillipos initially denied to agents that he was there when the other two UMass kids took Tsarnaev's laptop and fireworks-filled backpack, for which they were convicted of conspiracy and obstruction of justice. Under interrogation, Phillipos eventually confessed he was around after all.
Dukakis said he called the then-19-year-old to check on him at the urging of Phillipos's mom five days after the bombing. "He told me he was questioned for five hours by the FBI," Dukakis said, and that "he was so confused he didn't know what he said." (He didn't blame the weed that time.)
"We've certainly watched him grow up," Dukakis said, adding that he'd taken Phillipos to the 2004 Democratic National Convention. It is very possible the man may be cursed.