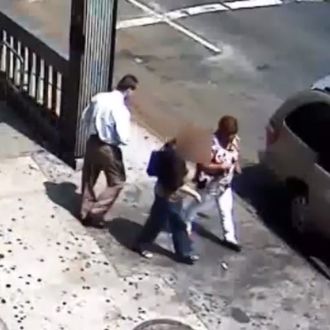 Police are on the search for a couple of scammers who have tricked not-cynical-enough New Yorkers into giving them thousands of dollars in a get-rich-quick scheme. The elaborate lie typically starts with a woman who claims to be an undocumented immigrant approaching a stranger for help cashing a winning lottery ticket. Quickly, a well-dressed man comes over — sometimes armed with a bible — to "help." He says he knows a good lawyer, and the duo dupes the unsuspecting stranger into forking over cash to hire him and then split the lottery winnings.
Money never comes that easily, folks, but at least nine women have fallen for this ruse since March. The oldest was 81 years old. Each victim handed over money — from $450 to $6,000 — and sometimes jewelry, worth up to $3,600. (Also, strangers with holy books are just as likely as everyone else to want some money from you.)
The suspects are both short: A five-foot-three man in his fifties, and four-foot-five woman of around the same age.
And, in case you're wondering: Undocumented immigrants are perfectly able to cash in their own lottery tickets. Even if they weren't, they probably wouldn't ask a random stranger on the street.