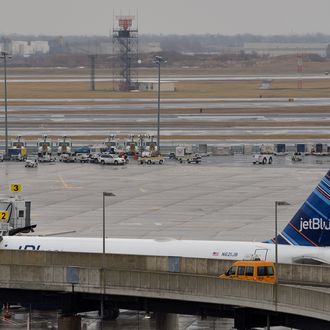 Is it time to panic about Ebola in the New York area? The answer is still "not yet" — but it didn't seem that way for a little while on Saturday afternoon. CDC officials met United Airlines flight 998 at Newark Liberty International Airport around noon because two passengers were exhibiting "flu-like symptoms" not unlike those associated with Ebola. The pair — a man and his elementary-school-aged daughter — are reportedly from Liberia, the epicenter of the pandemic. The flight originated in Brussels.
After the plane landed, workers in full hazmat gear fitted the sick family members with surgical masks and escorted them through the rear door. They were then taken to Newark's University Hospital for treatment and observation. Meanwhile, flight 998's other 253 passengers were reportedly quarantined on the parked aircraft for almost two hours. They were allowed to leave once it was announced that their fellow travelers weren't contagious.
Later, ABC News reported that the man and the girl don't seem to actually have Ebola. "He's now being treated with protocols as if he has it, but [there's] no clear indication at this point that he does," a source said. So, that's that. Meanwhile, people are still dying from Ebola by the thousands in West Africa, so let's try to keep most of the attention there.