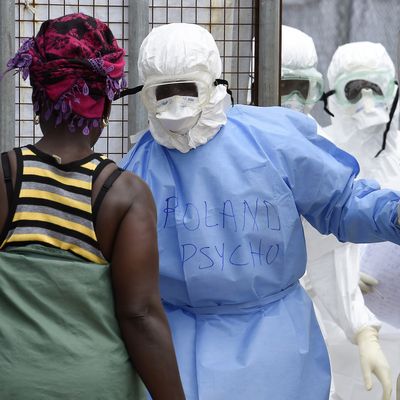 Photo: Pascal Guyot/Getty Images
As Ebola takes its toll in West Africa and spreads to other continents, the medical community is scrambling to find treatments for the deadly virus — and so are users on Facebook and Instagram. So far there are no FDA-approved treatments or vaccines for Ebola, but supportive hospital care can help the body fight it off. According to the CDC, treating symptoms like fever, vomiting, diarrhea, and body aches using IV fluids, making sure a patient's oxygen levels and blood pressure are steady, and quickly treating any other infections that may arise "can significantly improve the chances of survival."
There are also a host of experimental drugs in development that have shown promising results. Here's a rundown of the riskier, but potentially more successful, ways to treat Ebola.
ANTIVIRAL DRUGS
ZMapp is a drug that combines three antibodies designed to fuse to the protein of Ebola and deactivate it. Though it hasn't been approved by the FDA for use in humans, it's our most promising option. The drug was instrumental in helping American aid workers Kent Brantly and Nancy Writebol recover from the virus.
Dr. Senga Omeonga, a Liberian surgeon infected in July, told Newsweek that ZMapp "may have speeded my healing," though he believes he might have recovered anyway. There were more dramatic results among his colleagues:
Unfortunately one doctor who was supposed to receive the ZMapp died the same day it came. So they gave it to another [physician's assistant] who was in a coma. Thank God they did that, because the chance of survival was very slim for her. But after receiving the ZMapp, she made a recovery that made everyone amazed. The next day, she was out of the coma. In a few days she was walking. The other doctor [who received ZMapp] died. So among us three, one died and two survived.
Unfortunately, there was an extremely limited supply of ZMapp, and it's already run out. Seven patients were treated with the drug, and two died. The New York Times reported last week that the U.S. Department of Health and Human Services is in talks with Caliber Biotheraputics, a Texas company that can produce the drug in tobacco plants. Other organizations, such as the Bill & Melinda Gates Foundation, are trying to arrange for the drug to be produced in animal cells.
The Kentucky facility that produced the initial batch has resumed production, but the Times reports, "federal officials said it was expected to produce only about 10 to 20 treatment courses by the end of the year, and the same amount every month going forward."
TKM-Ebola, manufactured by Canadian drug company Tekmira, was approved by the FDA in September for treatment of Ebola in emergency cases. The company said it's only been given to "a few" patients, but it's been "well-tolerated." It may be responsible for the recovery of Dr. Richard Sacra, a missionary worker infected in Liberia who was released from a Nebraska hospital last week.
As with ZMapp, supplies are extremely limited. A recent WHO report said the active ingredients are available for about two dozen treatment courses of TKM-Ebola, and up to 900 could be available by the beginning of next year.
Brincidofovir was originally developed by a pharmaceutical company called Chimreix to fight smallpox and cytomegalovirus. On Monday, the FDA approved its use for Ebola treatment in "emergency cases." Now Thomas Eric Duncan, the Dallas Ebola patient, is taking the drug.
Dr. Thomas Geisbert, who works for the University of Texas Medical Branch and helped develop TKM-Ebola, said he's surprised Duncan's doctors chose brincidofovir. "I've never heard of this drug being used for Ebola before," Geisbert told USA Today. "It works in cell culture. That's great. Lots of things work in cell culture against Ebola," he said, but the drug has yet to be proven to fight Ebola in animals. 
STATINS

Back in August, two medicine professors argued in the Times opinion pages that statins, a class of drugs typically administered to reduce cholesterol, could be effective in treating Ebola. "Immunomodulatory drugs," the professors wrote, "have the ability to modify the body's response to infection. While they don't prevent infection itself, they can prevent complications like organ failure."
While they acknowledge their proposal is risky, there's one big advantage: The drugs have already been approved and are available as inexpensive generics. "They are available to anyone who lives in a country with a basic health care system, and this includes the countries in West Africa that are struggling to cope with Ebola," the doctors wrote.
Other doctors disagree, saying there's little evidence these drugs would be at all effective. "I completely understand that people mean well, and we all want to do something," Dr. Thomas Geisbert said. "But I have seen so many things that looked promising and didn't work in rodents, or that worked in rodents but didn't protect monkeys. … We shouldn't just grab anything on the back burner [that's approved by the FDA]."
SERUM
Patients who recover from Ebola develop antibodies in their blood that make them immune to that particular strain of the virus for up to 10 years. Harvesting the antibody-rich serum from a survivor's blood has proven effective in treating some Ebola cases. During the 1995 outbreak in the Democratic Republic of Congo, serum was highly effective in combating the virus.
Brantly and Writebol, the American aid workers who recovered, both received serum in addition to ZMapp. According to the group Samaritan's Purse, "Dr. Brantly received a unit of blood from a 14-year-old boy who had survived Ebola because of Dr. Brantly's care. The young boy and his family wanted to be able to help the doctor that saved his life." Brantly's plasma was then used to treat another Ebola victim, Dr. Richard Sacra. 
VACCINES

Several vaccines to stop the spread of Ebola are currently in the works. The National Institutes of Health started testing one last month, and the Department of Defense is working on another, according to CNN.
The World Health Organization says vaccines may not be widely available until 2016, but Protein Sciences, a small Connecticut company working on a vaccine, is more optimistic. Manon Cox, the company's president and chief executive, said their vaccine may be available early next year for medical workers and U.S. military personnel. "We know that we can make a protein that is pure and that is safe," Cox said. "What I always like to say to people is that it is better to have some protein in your body that might arm and might prevent the virus or at least give your immune system time to fight the Ebola virus than have nothing."