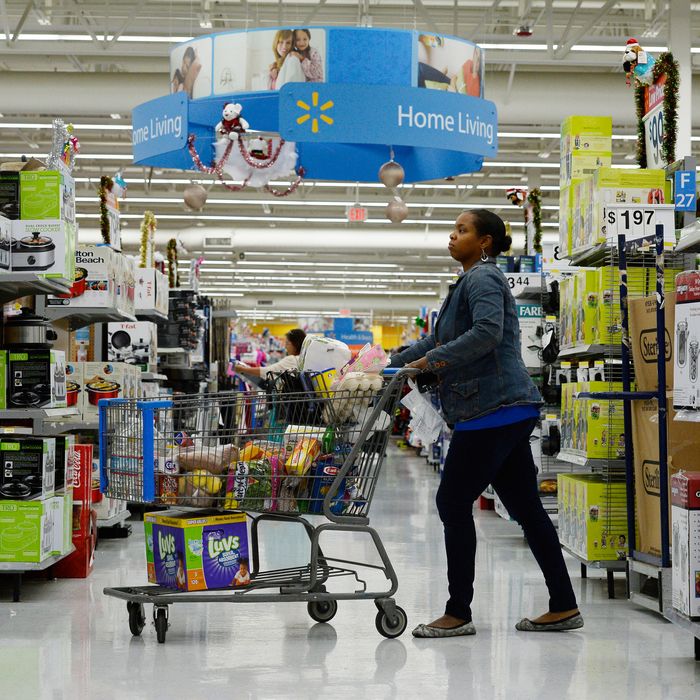 Photo: Kevork Djansezian/Reuters/Cprbos
It is expensive to be poor, as the saying goes. Have a healthy paycheck and a cash buffer built up? It costs you close to nothing to maintain your checking and savings accounts. Live hand-to-mouth, cashing your checks and taking out payday loans? You get hit with fee after fee as well as three-digit interest rates.
Enter wallet-friendly retail giant Walmart. This month, the big-box store is unrolling a low-fee checking account across the country. The response on the left, at least, has tended to be skeptical: a "new scheme to prey on America's poor," an "awful idea," and so on. But the big-box retailer — and the competition it might pose to banks and other financial institutions — might help make banking accessible to millions of currently ill-served low-income families.
A strange-bedfellows coalition of unions, consumer groups, and financial institutions has long opposed Walmart's attempts to move into banking. For unions and consumer groups, the main beef has been Walmart's supposed "character flaws": "The largest gender-discrimination case in the nation's history, child-labor-law violations, paying fines to allow undocumented workers within their stores overnight, the list goes on and on," one labor leader told The Wall Street Journal in 2006.
For financial institutions, the concern has mainly been competition. Back in the mid-2000s, the American Bankers Association, a powerful trade group, sent a "CEO alert" to 4,000 of its members, urging them to oppose Walmart's petition to become a bank and warning that Walmart's "reach and influence" would be significant.
Walmart has scaled back its ambition somewhat since the mid-aughts, offering a number of financial products rather than seeking a banking license outright. It has added prepaid debit and credit cards to its aisles. Its stores cash checks and transfer money. Now it is introducing its checking account along with an FDIC-insured firm, Green Dot.
It is called GoBank. Customers buy a $2.95 starter kit in Walmart, then receive a debit card that they can use wherever MasterCard is accepted. They can take out money at a network of tens of thousands of ATMs, deposit checks with a smartphone, and deposit cash at Walmart stores. The fees are not always dirt-cheap, but they are on the low side and straightforward. Best of all, there are no overdraft fees, perhaps the banking industry's worst tax on poor and income-unstable individuals.
Walmart, for its part, is stressing how inclusive and low-cost it wants the financial product to be. "Customers want easier ways to manage their everyday finances and increasingly feel they just aren't getting value from traditional banking because of high fees," said Daniel Eckert, a Walmart executive, in a press release. "Adding the GoBank checking account to our shelves means our customers will have exclusive access to one of the most affordable, inclusive and easy-to-use checking accounts in the industry."
Among many consumer advocates, the concern is that the checking account could be the cheap bait that comes before the hook of more expensive financial services — especially given that Walmart has been adding to its suite of financial products. But with GoBank, Walmart benefits from seeing more customers flowing through its doors, and Green Dot derives revenue through interchange fees.
It is other financial institutions — big banks, community banks, credit unions, payday lenders, and other fringe financiers — that have much to fear from Walmart's expansion.
Walmart and Green Dot have made their fees low and simple. They have targeted the low-income families that banks so often eschew and the unbanked families that banks generally ignore. Already, Walmart has become an important financial-services center for those families, with its dirt-cheap fees for things like check cashing. It is also not hard to see how over time they might begin to chip away at banks' broader customer base or force banks to lower fees and compete a little harder to keep their customers.
There are actually signs that, spurred by regulatory changes and the recession, financial firms have already started to do that. Both Citibank and Bank of America have unrolled accounts with low monthly charges and no overdraft fees — the former an "Access" account with a $10 monthly fee that gets waived if a customer makes a bill payment or a direct deposit, and the latter a "SafeBalance" account with a $4.95 monthly fee.
Along with GoBank, it all adds up to a world with more and better choices for low-income families, and less business for payday lenders. Save money, live better, indeed.