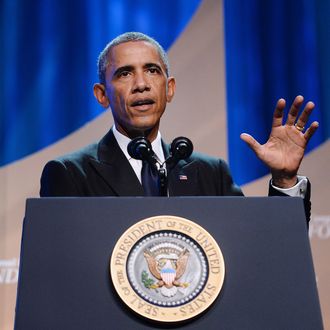 Obama at the Congressional Black Caucus Foundation awards dinner.
Photo: Olivier Douliery-Pool/Getty Images
The stories of total randos — more than one of them armed — getting way too close to the president continue to creep out. The latest reason to doubt the competence of the Secret Service comes via Bloomberg, which reports that all a man had to do to get backstage with Obama last week was claim he was in Congress. Definitely not a lawmaker, the man still managed to cruise past security at the Congressional Black Caucus Foundation awards dinner in Washington, where actual members of Congress were having photo-ops with the president.
It reportedly took a member of the White House staff to realize the man wasn't Representative Donald Payne Jr., and he was removed without incident. "This guy went through security, fully screened," the Secret Service said in a not-quite-reassuring-enough statement.
As these worrying examples keep piling up, even after the resignation of Secret Service director Julia Pierson, the racial angle has become impossible to ignore. The New York Times has a front-page story today about the pervasive but unsubstantiated fears in the black community that President Obama's protection is worse because of his race.
"It is something that is widespread in black circles," Representative Emanuel Cleaver II said, citing his constituents in Missouri. "I've been hearing this for some time: 'Well, the Secret Service, they're trying to expose the president.' You hear a lot of that from African-Americans in particular."
The Secret Service, in constant defense mode for more than a week now, insists it's not like that. "We recognize that protecting the president is a sacred trust we have with the American public and that they place in us," said a spokesperson. "It's never mattered to the service who the president is because we recognize that trust." That trust, needless to say, is waning.