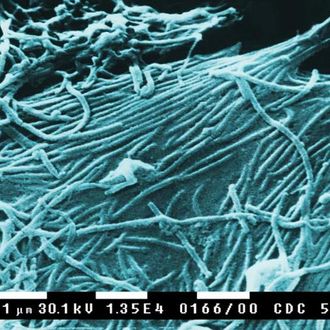 Three Malian health-care workers have become the first recipients of a new, experimental Ebola vaccine in Africa's first-ever trial of this kind. The expedited test only took about two months to set up and is using a common cold virus with a bit of Ebola tacked on. The hope is that those vaccinated will not come down with either disease.
There haven't been any Ebola cases in Mali to date, despite the fact that the country shares a large land border with Guinea, which has suffered more than 1,200 cases since the epidemic began. Yet officials are testing it on health-care workers because they will be at the greatest risk should the virus cross the border.
"This is just the critical first step in a series of additional clinical trials that will have to be carried out to fully evaluate the promising vaccine," Samba Sow, the country's director general for vaccine development, told NBC. "However, if it is eventually shown to work and if this information can be generated fast enough, it could become a public health tool to bring the current, and future, Ebola virus disease epidemics under control."
At least one other study is already under way in Europe. But, according to NBC, researchers think "it's important to conduct trials in Africa." Gambia is reportedly next on the list.