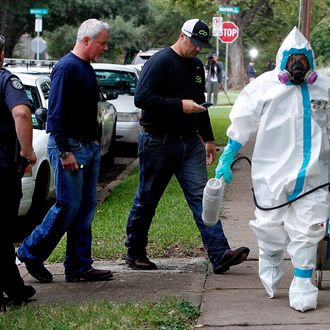 Photo: Mike Stone/Getty Images
There hasn't been much good news in the fight against Ebola, but on Sunday there were several encouraging reports. According to the BBC, the Spanish nurse who was the first person to contract Ebola outside of West Africa has tested negative for the virus (a second test is required before she'll be officially free of the disease). And the United States has reached an important milestone: the 21-day monitoring period for the 48 people who had contact with Thomas Eric Duncan, the Liberian man who died of Ebola in Dallas, ended on Sunday and Monday. Aside from the two nurses who cared for him, there have been no new infections.
Of course, dozens of other people in the United States are still waiting to see if they've contracted Ebola. Federal officials said on Sunday that they are monitoring 149 people who had contact with Duncan and nurses Nina Pham and Amber Vinson. Ohio health officials also contacted 153 people who may have had contact with Vinson, and it's unclear if the federal tally includes the three people under quarantine there.
While the chances of anyone in the monitored groups developing Ebola symptoms decreases by the day, Joseph McCormick of the University of Texas School of Public Health told Politico that's it's "totally unacceptable" that even two nurses caught Ebola. "That ratio is outrageous for the number of people who were infected, not for the numbers who weren't," McCormick said. "If there were two caregivers infected for every patient who gets treated in West Africa, we wouldn't have any caregivers left there."
It's still unclear how Pham and Vinson became infected, and this weekend the U.S. government announced more changes aimed at protecting health-care workers. Dr. Anthony Fauci, director of the federal National Institute of Allergy and Infectious Diseases, said that hospital workers will now be directed to wear protective gear that covers all parts of their skin. Also, the Pentagon is creating a 30-person medical support team consisting of "20 critical care nurses, five doctors trained in infectious disease and five trainers in infectious disease protocols" that will be deployed to locations in the United States if there are any new cases.