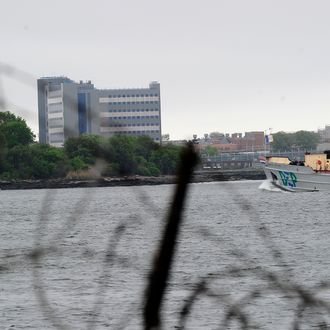 Photo: EMMANUEL DUNAND/2011 AFP
In the past few months we've heard many appalling stories of abuse on Rikers Island, and now a former inmate has come forward with a particularly revolting accusation. Bishme Ayers says he was beaten and sexually assaulted by a correction officer on July 4 at Jacobi Hospital. Ayers, who was serving time for assault, was hospitalized after suffering an epileptic seizure. He tells the Daily News that he was handcuffed to his hospital bed when a guard, who appeared to be drunk, tied his free arm down and began punching him, saying, "I'm gonna make you my bitch." "Then he started beating me up with the (baton) on my lower body, my legs. Then all of a sudden he shoved something in my rectum," Ayers said.
The 25-year-old said he suspects the attack was retaliation for complaints he made about conditions in Rikers back in 2008 when he was serving time for a prior assault charge. A lawyer with knowledge of the case says that in the previous incident, Ayers was beaten by several guards and awarded a $10,000 settlement. He says that during the July 4 attack, the guard remarked, "You like snitching on my officers?" and, "Don't act like you don't know who we are."
Now the Bronx district attorney's office and the Correction Department are investigating Ayers's claims, and he says he plans to sue the city. A DOC spokesperson said, "Although we cannot comment on specific planned litigation, Commissioner Ponte has no tolerance for violence at the Department of Correction, where the safety of inmates and staff is a top priority."
This post has been updated with the DOC's statement.