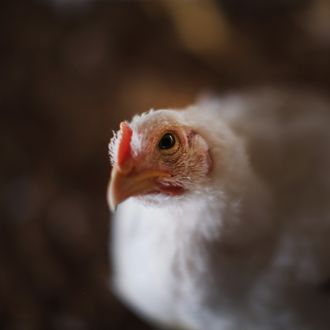 Photo: Scott Olson/Getty Images
An unknown intruder who apparently skipped a whole bunch of anger-management classes broke into a Fresno-area poultry farm on September 20 and killed almost 1,000 chickens. You know, just for funsies.
Authorities believe the total psycho pulled back a fence to gain access to the farm, then used a golf club and/or another blunt object to mutilate 920 chickens. Sure, the chickens were going to be killed anyway for their meat, but Foster Farms said in a statement that they do stuff like that humanely. 
"Whoever did something like this is pretty sick," Deputy Chris Curtice told the L.A. Times. "It would take a long time to do it … People should be alarmed at something like that."
Oh, we are.