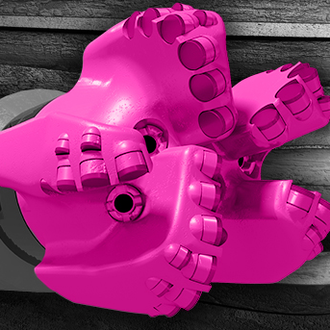 Today in "You can't make this shit up": Baker Hughes, a giant oil-field services company that provides hydraulic fracturing ("fracking") products and services, has donated $100,000 to the Susan G. Komen Foundation in support of breast-cancer research. And in the most egregious example of pink-washing we've ever seen, the company is producing 1,000 pink drill bits that will "serve as a reminder of the importance of supporting research, treatment, screening, and education to help find the cures for this disease."
There's at least one weird little thing about this pairing: Fracking, one of the services that Baker Hughes provides and the drill bits are used for, has some serious links to cancer itself.
In order to break up rock formations deep below the earth's surface to release the natural gas and oil, companies like Baker Hughes have to inject it with a mixture of water and hundreds of different chemicals. And some of these chemicals are not only harmful to your health, but they've actually been linked to breast cancer.
According to Breast Cancer Action, a nonprofit dedicated to ending breast cancer:
Over 700 chemicals are commonly used in the process of drilling and fracking for oil and gas. Of these, dozens are listed as "chemicals of concern" because of their link to myriad health harms, and several are known carcinogens or endocrine disruptors that have proven links to breast cancer.
In fact, Breast Cancer Action is so against this type of drilling that it started the Don't Frack With Our Health campaign, meant to educate people on the connection between fracking and breast cancer.
Sugarcoat your image all you want, but pink drill bits are still drill bits.